Dark circles disappear with this Wild Plum Eye Cream
Our Spa Member Gift this month is the Eminence Organics Wild Plum Eye Cream! It's iron-rich and ready to energize eyes and brighten dark circles.
This award-winning cream is hydrating and anti-aging – a perfect end-of-summer treatment to get you looking fresh and ready for fall. With wild plum juice to brighten and reduce irritations, moisturizing shea butter, and nutrient-packed grape oil and green tea. This cream tones and tightens the undereye area with added calendula and horse chestnut.  You'll look like you went on vacation and left your bags at home!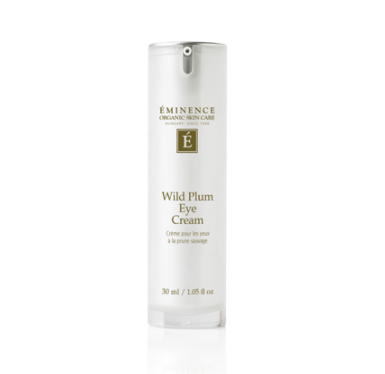 How to use this treatment:
Apply a thin layer of the cream to the entire eye area twice daily, patting gently with fingertips until fully absorbed.


Visible results include:

Skin appears deeply hydrated and comforted
The visible signs of aging appear reduced
Skin texture appears firm and supple
Eye area appears radiant and revitalized
The appearance of skin irritations are reduced and soothed

Key Ingredients:

Wild Plum Juice: brightens the look of skin and soothes the look of skin irritations
Shea Butter: moisturizes and repairs the look of skin
Grape Oil: contains antioxidants that deliver hydration
Calendula Extract: soothes and tones the skin's appearance
Green Tea: high in antioxidants, polyphenols, flavonoids, and vitamins for youthful-looking skin
Horse Chestnut: toning and tightening
BioComplex: a booster of antioxidants, Coenzyme Q10, and Alpha Lipoic Acid to reduce the appearance of wrinkles and improve the appearance of skin
Evening Primrose: softens and soothes the appearance of skin

We Believe in:        We say NO to:
 Organic                 Parabens
 Natural                  Phthalates
 Biodynamic®         Sodium Lauryl Sulfate
 Sustainable            Propylene Glycol
Cruelty-Free          Animal Testing

Eminence Organics is constantly innovating our product formulations to deliver the best results.
The Eminence natural, organic, and Biodynamic® ingredients may have slight variations from harvest to harvest.

• Award-Winning, Vegan, Nut Free and Gluten-Free, Best Seller •

Retail Size: 1.05 oz / 30 ml

Winner of Best Professional Eye Care Product Award, Sisters BeautyPro, Hong Kong, 2008
Members at Anjou Spa get monthly gifts and a 5% discount on products!
Come pick up your complimentary August Spa Member gift from our Welcome Desk staff on the FACE STUDIO side. Not yet a member? Members get monthly samples, extra discounts, and shopping nights, and treatments each month for a low monthly fee. With your Anjou Spa Membership, you also get a 5% discount on all products! Read more about our Anjou Spa Membership.
Call us at (541) 241-8454 to schedule your next treatment or request an appointment online. Find home goods, organic self-care products, and other gems we carefully select in our Shop! Sign up for our newsletter and get the inside scoop on skincare and self-care tips, product highlights, and our seasonal special treatments.