July Member Gift: Tropical Vanilla Day Cream SPF 32
It has been a bit of strange spring and early summer – for more reasons than one! The weather seems to still be deciding what to do, but the sun IS out and it's going to be here to stay. Now is the time to switch up our skincare routines and remember to apply that sunscreen! Which is why our member gift for July is the Tropical Vanilla Sunscreen with SPF.
As the most important step in your routine, SPF is also the first defense against sun damage, and it should be applied every day (here in the High Desert, sunscreen should be applied year-round). The trouble is, many sunscreens will leave your skin feeling greasy, itchy, or dry. This sunscreen from Eminence is different! It's a best-seller, blends in easily, and makes skin feel amazing. It also smells great – a definite white horse in the world of sunscreens!
How to use the Tropical Vanilla Day Cream:
Apply liberally 15 minutes before sun exposure. Reapply every 2 hours. Use other sun protection measures such as clothing and hats – spending time in the sun increases your risk of skin cancer and early skin aging.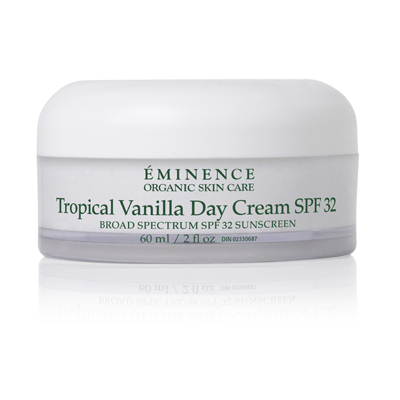 Visible Results include: 
Skin is protected from UVA and UVB rays
Epidermis appears moisturized and revitalized
Complexion appears softened and even
Texture appears silky and smooth
Key Ingredients:
Shea Butter: moisturizer and emollient
Zinc Oxide: provides broad-spectrum UVA and UVB protection
Vanilla: soothing and moisturizing
Ethylhexyl Methoxycinnamate (Octinoxate): a clear liquid compound that absorbs UVB light
We Believe in:        We say NO to:

 Organic                
 Parabens

 Natural                 
 Phthalates

 Biodynamic®        
 Sodium Lauryl Sulfate

 Sustainable           
 Propylene Glycol

Cruelty-Free        
 Animal Testing
Eminence Organics is constantly innovating our product formulations to deliver the best results.
The Eminence natural, organic, and Biodynamic® ingredients may have slight variations from harvest to harvest.
Also available in our Shop is Eminence Tropical Vanilla Body Cream with SPF 32! Get total body coverage with this amazing organic sunscreen.
Members at Anjou Spa get monthly gifts and a 5% discount on products!
Come pick up your complimentary July Bend Spa Member gift from our Welcome Desk. Not yet a member? Members get monthly samples, extra discounts, and shopping nights, and treatments each month for a low monthly fee. With your Anjou Spa Membership, you also get a 5% discount on all products! Read more about our Anjou Spa Membership.
Call us at (541) 241-8454 to schedule your next treatment or request an appointment online. Find home goods, organic self-care products, and other gems we carefully select in our Shop! Sign up for our newsletter and get the inside scoop on skincare and self-care tips, product highlights, and our seasonal special treatments.