September Spa Member Gift: Eight Greens Youth Serum 
One of the most effective and gentle treatments you can give your skin is a well-made serum. As soon as you apply it you can feel your face cooling and re-hydrating as the nutrient-rich moisturizer soaks into your skin. Serums deliver high concentrations of specific active ingredients to your skin, and different ones contain different nutrient combinations designed to help your skin look its best. The smaller molecules of a serum penetrate skin better than creamy moisturizers, and adding moisturizer after is the best way to lock moisture into the skin. Eminence's Eight Greens Youth Serum treats the visible signs of aging with a powerful combination of organic phytoestrogens.
Active ingredients of concentrated whole plant yucca, chasteberry and flax seed extract all  help with the appearance of tight and bright skin.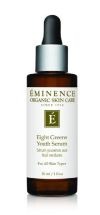 How to use the Serum:
Apply a thin layer over the entire face, or apply to affected areas 1–3 times per day. Mix with moisturizer: add 2 drops into moisturizer and apply.
Visible Results include: 
Great for problem or acne-prone skin
Epidermis appears firmer and tighter
The appearance of skin elasticity is improved
Skin appears less oily
Skin is more hydrated without appearing oily
Skin appears smoother and more silky
Key Ingredients:
Yucca Extract: antioxidant; source of phytoestrogens
Flaxseed/Linseed Extract: Omega 3s, antioxidant
Hops Extract: antioxidant
Paprika: invigorates and rejuvenates the look of skin
Chasteberry: source of antioxidant bioflavanoids
BioComplex: a booster of antioxidants, Coenzyme Q10, and Alpha Lipoic Acid to reduce the appearance of wrinkles and improve the appearance of skin
We Believe in:        We say NO to:

 Organic                
 Parabens

 Natural                 
 Phthalates

 Biodynamic®        
 Sodium Lauryl Sulfate

 Sustainable           
 Propylene Glycol

Cruelty-Free        
 Animal Testing
Eminence Organics is constantly innovating our product formulations to deliver the best results.
The Eminence natural, organic, and Biodynamic® ingredients may have slight variations from harvest to harvest.
Members at Anjou Spa get monthly gifts and a 5% discount on products!
Come pick up your complimentary September Bend Spa Member gift from our Welcome Desk. Not yet a member? Members get monthly samples, extra discounts, and shopping nights, and treatments each month for a low monthly fee. With your Anjou Spa Membership, you also get a 5% discount on all products! Read more about our Anjou Spa Membership.
Call us at (541) 241-8454 to schedule your next treatment or request an appointment online. Find home goods, organic self-care products, and other gems we carefully select in our Shop! Sign up for our newsletter and get the inside scoop on skincare and self-care tips, product highlights, and our seasonal special treatments.