Spread the love with these Valentine's Day gift bundles! 
Stop by the Anjou Shop this Valentine's season for curated, thoughtful gifts that are easy to pick up and already gift wrapped! We have selected the best gifts in our shop and bundled them up for all the lovelies on your list, or hey, just for yourself if the mood strikes you. 

The Beauty Bundle:
Perfect for: Galentine/Self Love/Wife/Mom/Daughter
Price: $94
We only choose products that are made with natural ingredients that get results, so you know this bundle will deliver on beauty with skin care benefits!
Moisturize skin with Desert Rose Facial Serum from Molly with Love, then roll on 11:11 Perfume from Lake and Skye and apply Aromi Lip Gloss and Honeybee Mascara as finishing touches. Perfect for date night fun or upgrading your everyday make up essentials!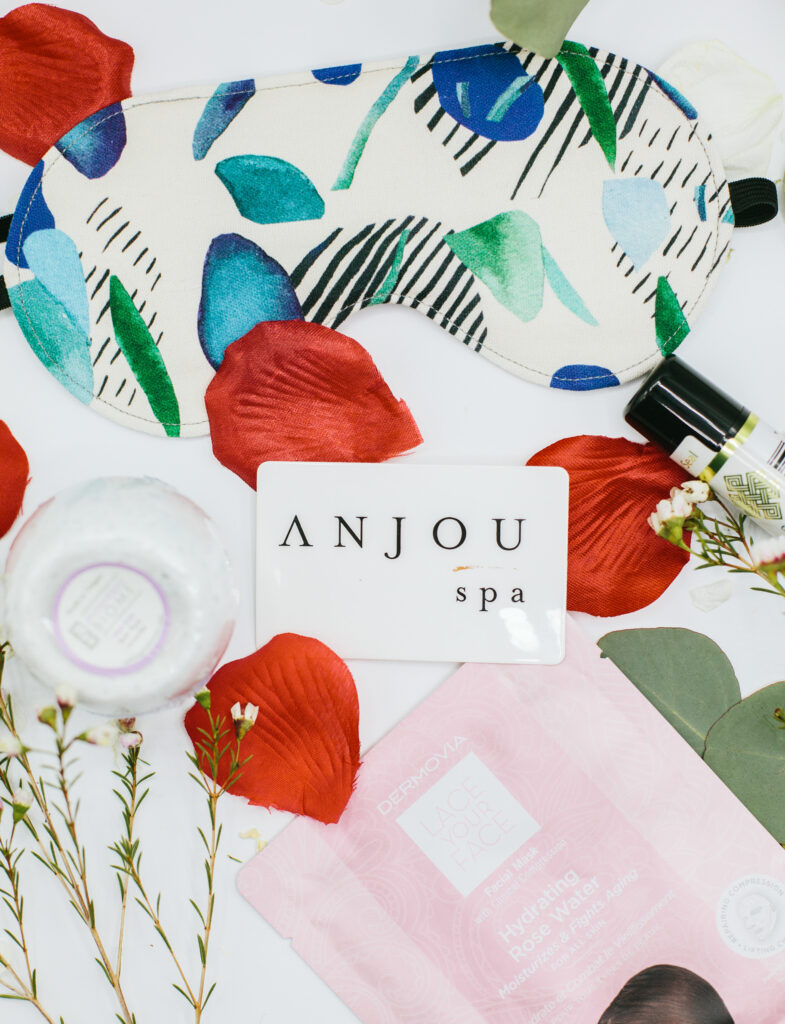 The Relax Bundle: 
Perfect for: Anyone looking for relief!
Price: $84
Get the relief you're seeking with this soothing self-care bundle! Come visit us at Anjou Spa with the Steam & Sauna pass included in this bundle ($30 value!). At home, use the Entangled Biome CBD bath bomb in a pain-relieving soak, then, after the bath, rub on some Pain Relief Muscle Rub. Finish off the day with a goregous Lace Your Face Hydrating Rose Water Sheet Mask and then drift off to your dreams in style with an fetching Eye Pillow.

The Bath Bundle: 

The Travel Bundle: 
Perfect for: The nomad in your life
Price: $69
All the good stuff your skin needs to alieviate the toll travel takes! A sheet mask and three assorted travel sized products from AOS Sensitive Skin collection. Also includes a travel Eminence Organics Skin Care Mask, perfect for applying after a flight! Get a good nights rest no matter where you lay your head with a Satin Eye Pillow. Awake, and take on the next adventure!
Be the hero of their heart this Valentine's Day and pick up one of these gift bundles. We'll even wrap it up for you, too!
Not sure what the best choice is for that special someone on your list? Consider a gift card!
Call us at (541) 241-8454 to schedule your next treatment or book online. Find home goods, organic self-care products, and other gems we carefully select in our Shop! Read Anjou Spa Reviews here, and learn more about our Anjou Bend Spa Membership too.