We're sure you've heard of and seen lots of facial mists out there – either hydrating, toning or moisturizing. But what does a facial mist really do and how should you use it? 
Applying a Facial Mist for a Balancing Step in your Routine!
Think of using a toner or a facial mist whenever you've removed something and are layering something else in your routine. The facial mist acts as the balancing step to better prepare your skin to absorb or push deeper with any subsequent products. 
It goes back to PH. Your skin has a pH level that is normally more acidic (4.5 – 5.5 pH) due to a protective layer called the "acid mantle." The acid mantle is a thin film on the surface of your skin that is made up of skin oils (or sebum), amino acids, fatty acids, lactic acid, enzymes that break down excess oils, water from perspiration, and your skin's own natural moisture. The acid mantle is protective, helps skin retain moisture, and softens skin. Due to its acidic nature, it also helps reduce infection and breakouts. It's important to protect the acidic mantle and do all we can to keep it thriving. 
Keeping this in mind, mentally go through each step of your routine: First, we cleanse. Most cleansers are alkaline. Typically cleansers are around a ph of 12. This can create overly dry skin and increases the look and feel of aging. By applying a facial toner or mist after cleansing but before moving on to the rest of your skincare routine, you can help restore your skin's natural pH and allow other products, such as masks, moisturizers, and serums, to better absorb. 
Sarah, our head esthetician has some advice for doing a routine at home that includes a facial mist: 
After you remove a cleanser or treatment mask you'll want to use a toner to re-balance the skin so that when you put on serums they will soak in really well and neutralize everything the pH of the skin is manipulated again. Everything layers nicely if you reset the skin. Another way you can utilize your toner in Central Oregon's arid environment is to apply toner over any serum or moisturizer to help it push deeper into the skin, especially if it has hyaluronic acid in it. Hyaluronic acid is an ingredient which typically helps bring moisture to the skin, but with the lack of humidity in the air, your serum or moisturizer will pull moisture from your skin and not the air around you. Which we don't want! By using a toner over that, we help to keep moisture in the skin. 
Choose the right facial mist for you: 
While we use toners with the goal of balancing skin, they can be used for other skincare struggles as well. 
Keep in mind, facial mists are all designed for a specific purpose. Some toners help remove excess oil, some add moisture, some exfoliate (if they have an acid). Read the ingredients carefully and determine if it's a mist you want to try and if it might work well within the rest of your routine.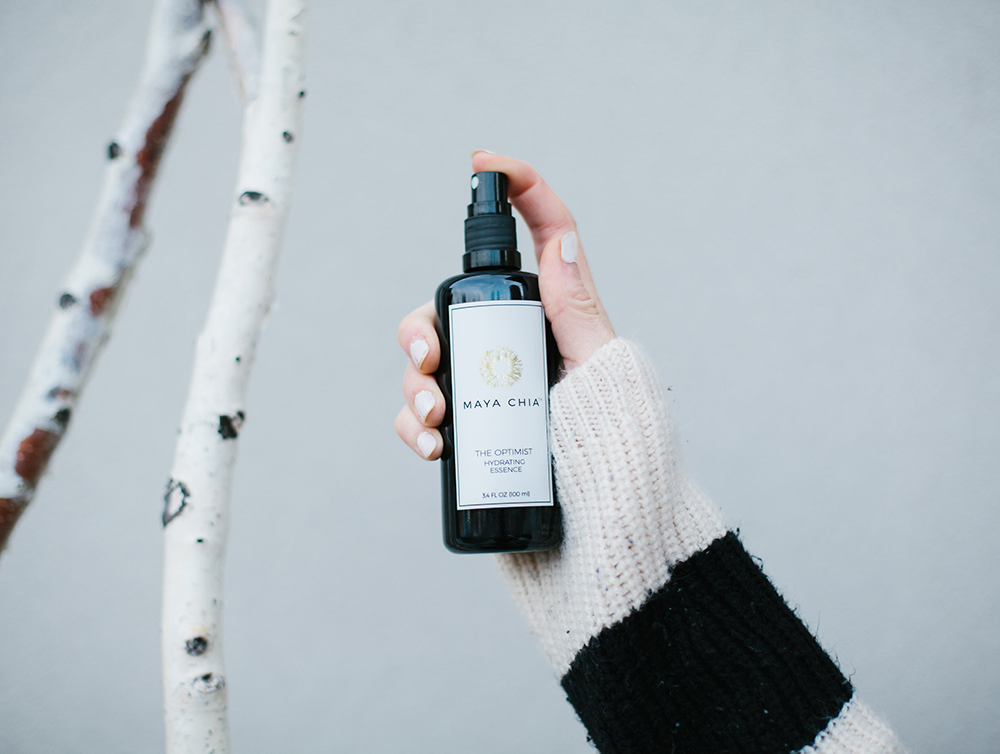 Try one of these 6 Facial Mists at Anjou Spa: 
Eminence Birch Water Essence – Replenish skin with a lightweight essence that restores moisture levels. Birch water purifies the skin while botanical collagen increases elasticity and improves barrier function. An essential step that helps the skin better absorb and retain the benefits of subsequent products. 
Eminence Hawthorn Tonique – For dehydrated, irritated, and sensitive skin, our Hawthorn Tonique will give your skin a revitalized appearance. Use the power of hawthorn, chamomile, and marjoram to reduce the appearance of skin irritation. 
Eminence Neroli Age Corrective – A collagen boosting toner with Natural Retinol Alternative and Swiss Green Apple Stem Cells for all skin types, especially mature. Your skin will feel smoother and appear tighter with the energizing boost of fragrant neroli oil. 
Eminence Stone Crop Hydrating Mist – A revitalizing and healing toner for all skin types, particularly uneven ones. Use with Sun Defense Minerals to increase your skin's hydration level and to leave it looking smooth and moisturized. 
Maya Chia The Optimist – The Optimist augments the look of skin's hydration and brightness with a proprietary blend of antioxidants, amino acids, polysaccharides, phytonutrients, and fatty acids, such as Sake, White Tea, Chia Seed, Astaxanthin, and Licorice Extracts for radiant, nourished, glowing skin.
From Molly With Love Soothe Toner – This lavender rose soothe toner is gentle, anti-aging, and refreshing. It's perfect for all skin types but works really well for dry, sensitive, or mature skin. This natural toner treats dryness, redness, irritation, and problem pores. Rose is particularly nourishing and cooling, while lavender helps your skin produce the right amount of sebum (oil) to keep it supple.
From Molly With Love Sea Kelp Bioferment – Inspired by Korean skincare, this essence is like a liquid serum for fresh, hydrated skin. Use as a toner and serum and then apply an additional moisturizer if needed. 
Stop by the Anjou Shop to pick up some of these mists today! 
Call us at (541) 241-8454 to schedule your next treatment, or book online. Find more than facial mists in our Shop – we also stock home goods, organic self-care products, and other gems we carefully select. Read Anjou Spa Reviews here, and learn more about our Anjou Bend Spa Membership too.