No time for skin care? Switch to this multi-tasking Rice Milk Cleanser
We get it, it's the end of the school year, a million projects at work, and summer plans are calling you away… there's no time for multiple skin care steps (or if you are camping or traveling, not space for multiple products!) Streamline your routine this month with our June Spa Member sample: the Eminence 3 in 1 Rice Milk Cleansing Water.
This easy-to-apply cleansing water will moisturize and hydrate, as well as reduce the look of inflammation and minimize the appearance of aging. Rice milk has long been celebrated as an amazing beauty tonic for face and body care and is deeply hydrating. Pomelo is anti-aging, helps with skin regeneration and repair. Added to those is Witch hazel, a natural astringent, which means you can skip that extra step! The rich hydrating power of this cleanser will leave your skin feeling gently cleansed, calm and nourished. 
Dispense a small amount of cleansing water in hands or saturate a cotton ball or pad with product. Gently wipe over the face, including closed eyelids. Rinse with cool water or leave on.
Visible Results include: 
• Skin appears perfectly cleansed and balanced
• Your complexion looks clear, smooth and bright
• The look of surface build-up, impurities and blockages are reduced
• Skin irritation appears reduced and calmed
Eminence is constantly innovating our product formulations to deliver the best results.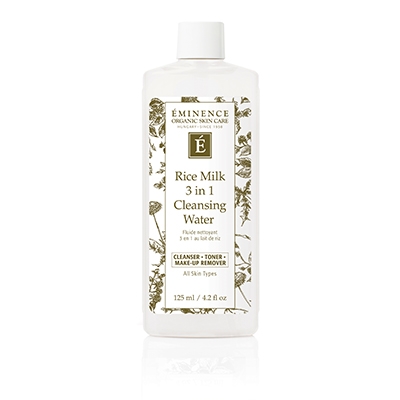 Key Ingredients
Rice Milk: moisturizing and hydrating; evens and brightens the look of skin tone; minimizes the appearance of pores

Pomelo Juice: rich in antioxidants and vitamins, minimizing the appearance of aging, evens the look of skin tone; increases collagen production

Witch Hazel: anti-inflammatory; astringent; reduces the look of inflammation

Jasmine: antiseptic; antibacterial

We Believe in:        We say NO to:

 Organic                
 Parabens            

 Natural                 
 Phthalates

 Biodynamic®        
 Sodium Lauryl Sulfate

 Sustainable           
 Propylene Glycol

Cruelty-Free        
 Animal Testing
Made with Biodynamic® ingredients from Demeter International Certified Biodynamic® farms. 
The Eminence natural, organic and Biodynamic® ingredients may have slight variations from harvest to harvest.
Why try a cream cleanser? 
Cleansers offer hydration and anti-aging properties, while gently washing away skin impurities. Watch this video to learn how to apply cream cleansers from Eminence.
Come pick up your complimentary June Bend Spa Member gift from our Welcome Desk. Enjoy!
Dial (541) 241-8454 to book your next treatment or book online. Consider other gems, home goods, and organic self-care products when shopping our Welcome Boutique on your way in or out at our new location of 1835 NW Pence Lane, Suite 120, off NW Shevlin Park Road on Bend's westside neighborhood, at the bottom of College Way. Read Anjou Spa Reviews here, and learn more about our Anjou Bend Spa Membership too.