SPF is your BFF
Spring is here and the sun is near (literally, the Earth is now tilted towards to the sun!) Get the protection your skin needs in a rich and emollient daily moisturizer from Eminence with our April member sample: Lilikoi Mineral Defense Moisturizer. 
Lilikoi (aka, passion fruit seed oil) is used for its vitamin C, antioxidants, and it's effectiveness at combating the signs of aging.
Not only does it smell delicious, but we love it for its med-lightweight feel and triple-benefits: 1) moisturizer, 2) SPF, 3) environmental stressor protection. Eminence's newest moisturizer is a great switch-up from your winter go-to hydrator: less heavy but still extremely hydrating. And SPF is part of it! Mineral SPF leaves no chalky residue, glides on and you're ready for outside. 
Apply liberally 15 minutes before sun exposure. Reapply at least every 2 hours. And remember: use a water-resistant sunscreen if swimming or sweating.
Apply a thin layer and build coverage as needed to match your skin type. For added protection from the visible aging effects of blue light, follow with the Lilikoi Light Defense Face Primer SPF 23.
Visible Results include: 
• Skin is left lightly hydrated and protected from sun damage
• Skin is shielded against drying environmental stressors and micro-particles caused by both outdoor and indoor pollutants
• Absorbs completely with no white cast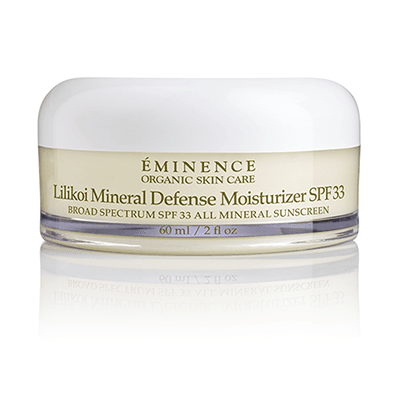 Key Ingredients
Zinc Oxide & Titanium Dioxide: natural minerals block UV rays to protect skin from sunburn
Lilikoi (Passion Fruit) Seed Oil: contains Vitamin C and antioxidants which help with the visible signs of aging
Satsuma Mandarin Peel Extract: protects against drying pollution elements and helps to minimize the look of hypersensitivity
Larch Tree: moisturizer. Protects skin from drying environmental stressors

We Believe in:        We say NO to:

 Organic                
 Parabens            

 Natural                 
 Phthalates

 Biodynamic®        
 Sodium Lauryl Sulfate

 Sustainable           
 Propylene Glycol

 Cruelty Free          
 Animal Testing
Made with Biodynamic® ingredients from Demeter International Certified Biodynamic® farms. 
The Eminence natural, organic and Biodynamic® ingredients may have slight variations from harvest to harvest.
Lilikoi Mineral Defense
 Try this double moisturizer and sun protection cream – the perfect skin care product for spring! 
Come pick up your complimentary April Bend Spa Member gift from our Welcome Desk. Enjoy!
Dial (541) 241-8454 to book your next treatment or book online. Consider other gems, home goods, and organic self-care products when shopping our Welcome Boutique on your way in or out at our new location of 1835 NW Pence Lane, Suite 120, off NW Shevlin Park Road on Bend's westside neighborhood, at the bottom of College Way. Read Anjou Spa Reviews here, and learn more about our Anjou Bend Spa Membership too.