New from Eminence: Strawberry Rhubarb hyaluronic hydrator, our member gift for June!
A new collection from Eminence is landing and we are excited to share all the juicy details with you. We'll be using more of this Strawberry Rhubarb Hyaluronic Collection in our seasonal special for June – stay tuned for details coming soon!
For now, Spa Members, enjoy this gift of the Strawberry Rhubarb Hyaluronic Hydrator. Eminence developed this unique blend of multi-weight HA and Marshmallow Root that deeply hydrates and locks in moisture. It's called the Botanical Hyaluronic Acid Complex, and it's in this entire Strawberry Rhubarb line.
With a fresh, dewy finish, this vegan gel-cream rejuvenates the appearance of dull skin. Lightweight in texture, this hydrator pairs our innovative Botanical Hyaluronic Acid Complex with panthenol, strawberry and rhubarb to lock in moisture and reveal radiant-looking skin. Ideal for all skin types.
Strawberry Rhubarb Hyaluronic hydrator: How to Use and Key Ingredients
Apply a layer over the entire face, neck and décolleté area and leave on. For extra hydration, apply a thicker layer in dry areas.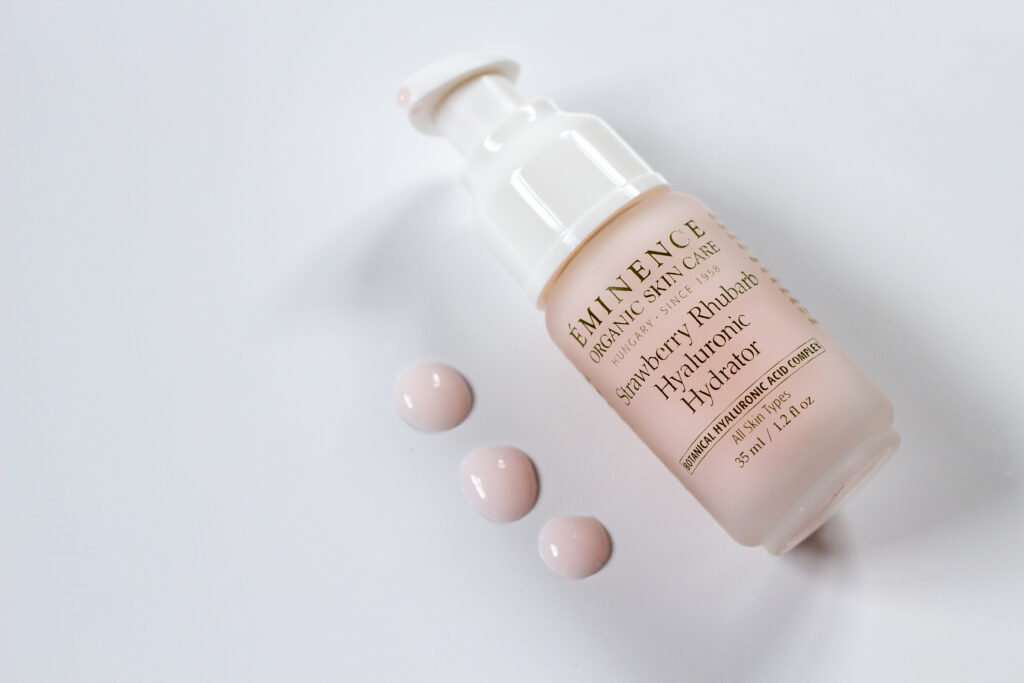 Visible results include:

Skin feels plumped and refreshed
Improves skin texture and luminosity
Delivers intense hydration deep into the skin and helps to support the skin moisture barrier to hydrate and lock in moisture

Key Ingredients:

Botanical Hyaluronic Acid Complex: unique blend of multi-weight Hyaluronic Acid and Marshmallow Root that deeply hydrates and preserves moisture in the skin
Panthenol: reinforces skin hydration and prevents moisture loss by protecting the skin moisture barrier
Plant Sugars: strengthen skin by optimizing moisture reserve
Strawberry: naturally contains salicylic acid that gently exfoliates and removes impurities to brighten the look of the skin
Rhubarb: contains polyphenols to rejuvenate and preserve youthful-looking skin
We Believe in:        We say NO to:

 Organic                
 Parabens

 Natural                 
 Phthalates

 Biodynamic®        
 Sodium Lauryl Sulfate

 Sustainable           
 Propylene Glycol

Cruelty-Free        
 Animal Testing
Eminence Organics is constantly innovating our product formulations to deliver the best results.
The Eminence natural, organic, and Biodynamic® ingredients may have slight variations from harvest to harvest.
Strawberry Rhubarb Hyaluronic Hydrator is Vegan, Soy Free, Nut Free, and Gluten-Free.
Retail Size: 1.2 oz / 35 ml
Members at Anjou Spa get monthly gifts and a 5% discount on products!
Come pick up your complimentary June 2022 Spa Member gift from our Welcome Desk staff on the FACE STUDIO side. Not yet a member? Members get monthly samples, extra discounts, shopping nights, and treatments each month for a low monthly fee. With your Anjou Spa Membership, you also get a 5% discount on all products! Read more about our Anjou Spa Membership.
Call us at (541) 241-8454 to schedule your next treatment or request an appointment online. Find home goods, organic self-care products, and other gems we carefully select in our Shop! Sign up for our newsletter and get the inside scoop on skincare and self-care tips, product highlights, and our seasonal special treatments.