Younger skin overnight with Monoi Night Body Cream
Monoi night body cream is the anti-aging treatment for your entire body that works overnight to deliver smoother, softened skin. What's the secret? Massage in at night (ideally, after bathing and exfoliating) and have supple skin when the sun rises. Super emollient monoi – aka fragrant Tahitian oil – works to firm the appearance of skin and hydrate.
What is monoi oil?
It's Tahitian for "scented oil" and it's made by steeping the petals of Tahitian gardenias in coconut oil. Monoi was traditionally used in Polynesian cultures in religious ceremonies, as a medicinal remedy, and as a beauty ingredient. It's multi-purpose, and used to soften skin and hair, which is why it works so wonderfully in this overnight treatment.
This ultra-rich night cream will replenish moisture and leave skin with a smooth, youthful appearance. Combined with skin smoothing PhytoCellTec™ Argan stem cells and Nutmeg Seed, and other super-powered moisturizers like argan oil, evening primrose oil, shea butter, and grape seed oil. This cream also contains Botanical Hyaluronic Acid which is a natural ingredient that hydrates, smoothes and plumps kin to minimize fine lines and wrinkles.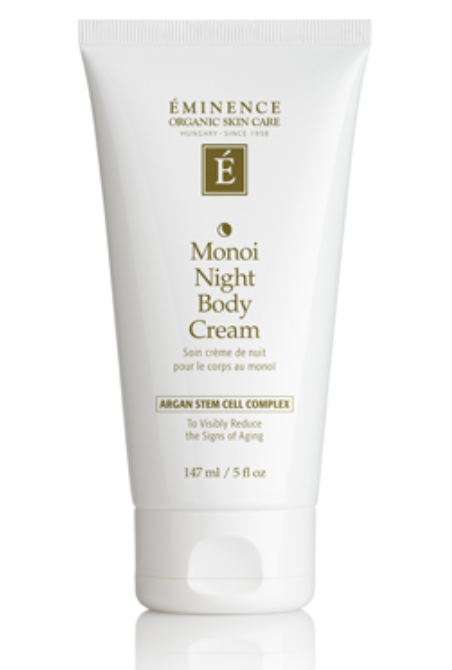 How to use Monoi Night Body Cream:
Do you love to bathe at night? This cream will be super easy to add into your routine. Apply a small amount to cleansed skin at night. Massage in and leave on. Recommended after exfoliation, shower, or body scrub. For extra hydration, apply a thicker layer on dry areas or apply during the day as well. For a lighter application, dilute with water. Do not use on broken or abraded skin.




Visible results include:

Skin appears moisturized and rejuvenated
Texture appears smooth and velvety
Skin appears firmer and surface is even




Key Ingredients:

Monoi: fragrant Tahitian oil; hydrates and firms the appearance of the skin
Argan Stem Cell Complex (Argan Stem Cells and Nutmeg Seed): contains PhytoCellTec™ Argan stem cells and Nutmeg Seed; results in smoother looking skin
Argan Oil: antioxidant; softens and moisturizes
Evening Primrose Oil: moisturizes
Shea Butter: moisturizes and revitalizes the look of the skin
Botanical Hyaluronic Acid (derived from Marshmallow Plant): deeply hydrating; natural substance that smoothes and plumps skin to minimize the appearance of fine lines and wrinkles
Grape Seed Oil:  antioxidant and emollient

We Believe in:        We say NO to:
 Organic                 Parabens
 Natural                  Phthalates
 Biodynamic®         Sodium Lauryl Sulfate
 Sustainable            Propylene Glycol
Cruelty-Free          Animal Testing

Eminence Organics is constantly innovating our product formulations to deliver the best results.
The Eminence natural, organic, and Biodynamic® ingredients may have slight variations from harvest to harvest.

• Monoi Night Body Cream is Award-Winning, Vegan, and Gluten-Free •

Winner of Best Anti-Aging Collection, ASCP Skin Deep Readers' Choice Awards, 2018 ​

Retail Size: 5 oz / 147 ml   

 
Members at Anjou Spa get monthly gifts and a 5% discount on products!
Come pick up your complimentary October Spa Member gift from our Welcome Desk staff on the FACE STUDIO side. Not yet a member? Members get monthly samples, extra discounts, and shopping nights, and treatments each month for a low monthly fee. With your Anjou Spa Membership, you also get a 5% discount on all products! Read more about our Anjou Spa Membership.
Call us at (541) 241-8454 to schedule your next treatment or request an appointment online. Find home goods, organic self-care products, and other gems we carefully select in our Shop! Sign up for our newsletter and get the inside scoop on skincare and self-care tips, product highlights, and our seasonal special treatments.