Look younger instantly with this firming Hibiscus Ultra Lift Neck cream
Need a lift? Check out this Hibiscus Ultra Lift Neck Cream from Eminence, our September Spa Member Gift.
Rejuvenate and tighten the delicate neck and décolletage area with the Advanced Instant Lift fX formula. With a blend of hibiscus and botanical hyaluronic acid, keep skin looking firm and rich in moisture. paprika and edelweiss give sagging skin a boost for a neck that is smooth and instantly lifted.  
Can you believe that results are visible in only 2 minutes?! See the video below for more, and to watch this cream in action.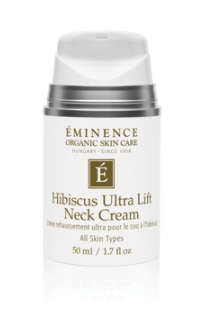 How to use Hibiscus Ultra Lift Neck Cream:
Lightly massage 1-2 pumps of the cream onto the neck and décolletage area using upward sweeping motions for dramatic instant lifting, tightening and firming. Apply once or twice daily. Leave on.


Visible results include:

Visible results in as little as 2 minutes.
The elasticity of skin is improved to instantly look lifted and tightened
Wrinkles are smoothed and appear reduced
The neck and décolletage area is revitalized and hydrated for younger-looking skin


Key Ingredients:

Hibiscus:  Increases elasticity; moisture rich to keep skin hydrated and supple
Acacia: Moisturizing, firming and tightening; reduces the look of wrinkles and smooths skin
Edelweiss: Tightens and appears to lift sagging skin; smooths the look of wrinkles
Paprika: Revitalizes the look of skin
Botanical Hyaluronic Acid: Deeply hydrating. Minimizes the appearance of fine lines and wrinkles

We Believe in:        We say NO to:
 Organic                 Parabens
 Natural                  Phthalates
 Biodynamic®         Sodium Lauryl Sulfate
 Sustainable            Propylene Glycol
Cruelty-Free          Animal Testing

Eminence Organics is constantly innovating our product formulations to deliver the best results.
The Eminence natural, organic, and Biodynamic® ingredients may have slight variations from harvest to harvest.

• Award-Winning, Vegan, Nut Free and Gluten-Free, Best Seller •

Retail Size: 1.7 oz / 50 mlWinner of Best Neck Cream, HiStyle Best Beauty Buys, 2020​​

Winner of Innovate Award for Products: Age Corrective Ultra Collection, International Spa Association Awards, 2017

Winner of Best Skincare Product for Ages 50+, Beauty Shortlist Awards, UK, 2017

Winner of Best Age Delay Beauty Product, Beauty Shortlist Awards, UK, 2017
Members at Anjou Spa get monthly gifts and a 5% discount on products!
Come pick up your complimentary August Spa Member gift from our Welcome Desk staff on the FACE STUDIO side. Not yet a member? Members get monthly samples, extra discounts, and shopping nights, and treatments each month for a low monthly fee. With your Anjou Spa Membership, you also get a 5% discount on all products! Read more about our Anjou Spa Membership.
Call us at (541) 241-8454 to schedule your next treatment or request an appointment online. Find home goods, organic self-care products, and other gems we carefully select in our Shop! Sign up for our newsletter and get the inside scoop on skincare and self-care tips, product highlights, and our seasonal special treatments.