Calm your skin from summer damage with this serum
Sun, wind, heat, water, sand. Sounds like a fantastic summer for you… but your skin is feeling the burn! Rejuvenate and calm skin with this months Spa Member Gift – the Calm Skin Arnica Booster Serum from Eminence Organics. 
Sun and Water are drying to skin: 
When you are out playing all day, you are probably not thinking too much about moisturizing. Sweat and water may make you feel like your skin has been hydrated all day, but in reality, it's been out to dry. And for those of us that are sensitive or eczema prone, summer can be even more irritating to your skin. 
Get to calm again… with this hydrating serum! Arnica is anti-inflammatory, while ivy and horse chestnut tone and tighten pores. Vitamin-rich rose hip coupled with calming plants like chamomile and lavender, restore moisture and soothe irritated skin. BioComplex gives a boost of antioxidants, reducing the appearance of wrinkles. Summer is sunny – and soothing – with this serum!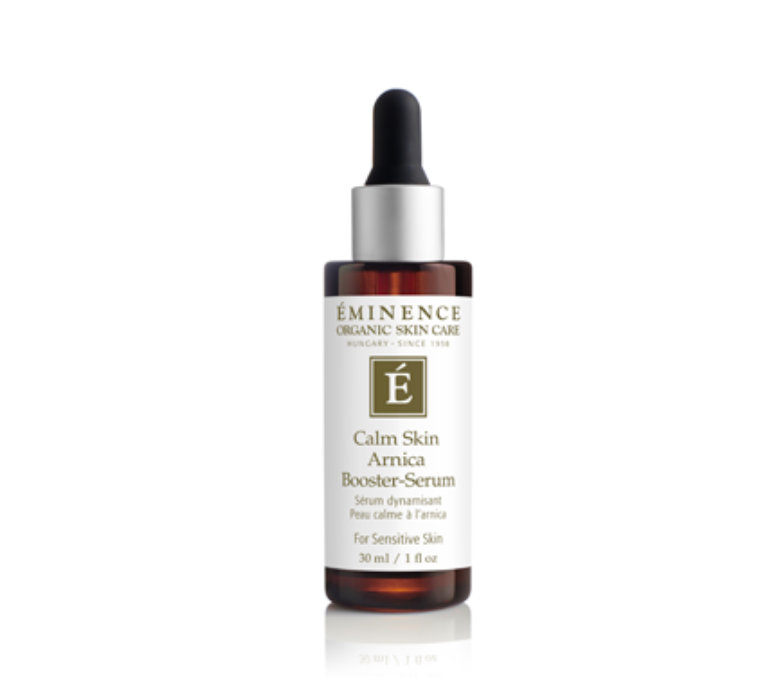 How to use this treatment:
Apply a thin layer over the entire face, or apply to affected areas 1–3 times per day.

Alternatively, combine 2-3 drops with an Eminence masque or moisturizer.


Visible results include:

The appearance of redness is reduced
The appearance of irritation and inflammation are calmed
Complexion appears toned and enriched
Oxygenation and blood circulation is stimulated

Results are enhanced when using entire Calm Skin VitaSkin™ Solution. Eminence is constantly innovating our product formulations to deliver the best results. 

Key Ingredients:

Arnica: cleansing, calming
Ivy: tones and tightens the appearance of pores
Rosehip: vitamin-C rich
Horse Chestnut: tones and tightens the appearance of skin
Lavender: restores moisture to dry skin
Chamomile: revitalizes, calms and balances the appearance of skin
BioComplex: a booster of antioxidants, Coenzyme Q10, and Alpha Lipoic Acid to reduce the appearance of wrinkles and improve the appearance of skin

We Believe in:        We say NO to:
 Organic                 Parabens
 Natural                  Phthalates
 Biodynamic®         Sodium Lauryl Sulfate
 Sustainable            Propylene Glycol
Cruelty-Free          Animal Testing

Eminence Organics is constantly innovating our product formulations to deliver the best results.
The Eminence natural, organic, and Biodynamic® ingredients may have slight variations from harvest to harvest.

• Award Winning, Vegan, Soy Free, Nut Free and Gluten Free •

Retail Size: 1 oz / 30 ml
Honorable Mention of ASCP Readers' Choice Awards: Favorite Sensitive Skin Line, ASCP Skin Deep, 2019Winner of Best Organic Facial, Harper's Bazaar Malaysia Spa Awards, 2017
Winner of Premium Organic Skincare Product, Sister's Beauty Pro Awards, Hong Kong, 2015 
Members at Anjou Spa get monthly gifts and a 5% discount on products!
Come pick up your complimentary July Spa Member gift from our Welcome Desk staff on the FACE STUDIO side. Not yet a member? Members get monthly samples, extra discounts, and shopping nights, and treatments each month for a low monthly fee. With your Anjou Spa Membership, you also get a 5% discount on all products! Read more about our Anjou Spa Membership.
Call us at (541) 241-8454 to schedule your next treatment or request an appointment online. Find home goods, organic self-care products, and other gems we carefully select in our Shop! Sign up for our newsletter and get the inside scoop on skincare and self-care tips, product highlights, and our seasonal special treatments.