Dry brush the blahs away!
Dust off the fatigue and refresh your spirit with this dry brushing technique, which is included in one of our Spring specials for 2021, the Brush n'Bloom massage.
What is Dry Brushing? 
Dry brushing is an ayurvedic practice that improves circulation, exfoliates, and invigorates the skin. What does ayurvedic mean? Ayurveda is a holistic health and wellness philosophy that was first developed in India over 3000 years ago. This philosophy is based on the belief that health and wellness are dependent on an interconnected balance between the mind, body, and spirit. You'll find that many ayurvedic practices were designed to impact multiple systems simultaneously because of this underlying interconnected philosophy. Dry brushing is a perfect example because it is rejuvenating, energizing, exfoliating, and detoxing.
In the practice of dry brushing, you can use either a bristle brush or raw linen or silk gloves and in upward sweeping motions, firmly brushing all over your body. The idea is to go "against the grain" of your skin and body hair for the maximum exfoliation and energy lifting effect. This also increases circulation and assists with lymphatic drainage. 
Why is it important? 
Lymphatic drainage is excellent for removing toxins from your body. Dry brushing also stimulates the nervous system and increases circulation. 
When you dry brush your whole body, your skin benefits from the extra exfoliation treatment, and this helps to unclog pores, especially in areas you don't normally exfoliate (think back, thighs, and upper arms). 
When to dry brush: 
Dry brushing is recommended to be done daily, however, you will feel the benefits even more in certain circumstances: 
When feet and legs are fatigued (pregnancy, extended time standing, hot weather) 

Change of seasons, especially from winter to spring. 

When detox is needed, perhaps after a period of overindulgence. 

To feel an increase in energy and to decrease stagnation.

How to do it at home: 
It's easiest to work dry brushing into your routine at home if you do it right before your morning or evening shower. It is important to do this practice on dry skin, rather than during the shower, so that skin is exfoliated and not robbed of moisture from prolonged exposure to hot water. It is also important to avoid doing it after a shower or bath because the skin will be wet and this exercise will not be as effective. 
Follow this Dry Brushing Routine! 
Undress and stand in the bathroom with your dry brush at the ready. 
When performing this routine, keep in mind that strokes should go from bottom to top of the body, and always be brushing toward the center of the body and towards the heart
Starting with the feet and calves, brush up in short, vigorous strokes, starting with tops of feet and shins and then doing bottoms of feet and calves.
Continue up the legs to thighs, and back of the legs. Brush on the upper thigh, towards the groin, and then up the torso. As you are brushing, you can either avoid or go lightly over any sensitive areas. 
Now switch to the hands and arms, going up backs of hands, forearms and then palms of hands and over elbows. Continue to the backs of the arms, and up to shoulders. Then brush across and down the chest. 
When your whole body is dry brushed, shower as usual and enjoy the effects of this wonderful, healing process. 
PRO TIP: after your shower or bath routine, be sure to deeply moisturize your exfoliated skin with a rich lotion or the Apricot Body Oil from Eminence. 
Download our PDF guide to print at home: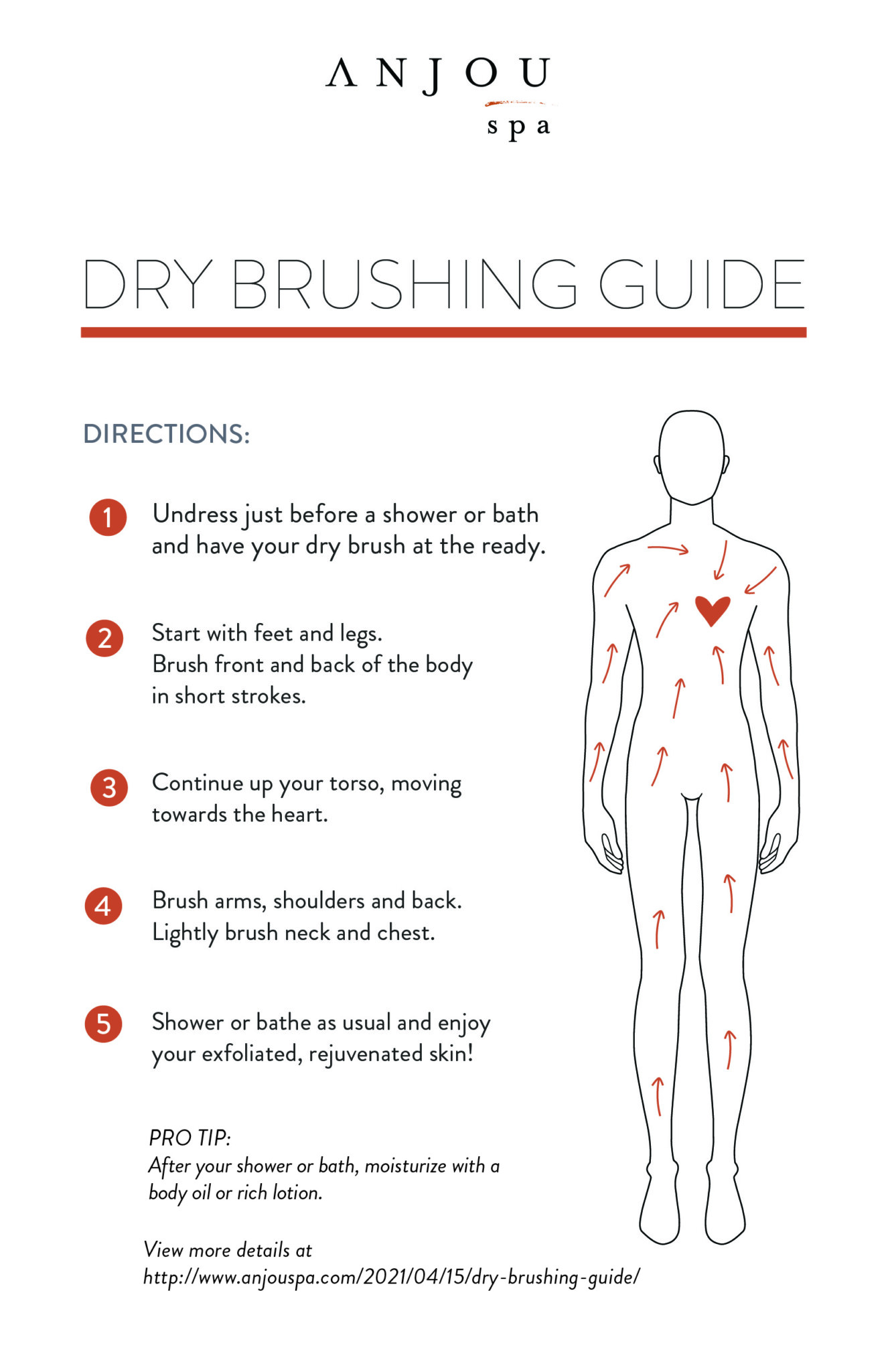 More about the Brush n'Bloom seasonal massage: 
This massage special goes out to all types of mamas: from expecting to well seasoned, it's been quite a year for the lot of us. Dust off the fatigue and refresh your spirit with this dry brushing treatment, complete with flowering essential oils, steamy hot towels, and a full body massage. The dry brush is yours to keep! Your therapist will provide you with instructions to DIY your dry brushing treatment at home to support your ongoing self-care.
Call us at (541) 241-8454 to schedule your next treatment or request an appointment online. Find home goods, organic self-care products, and other gems we carefully select in our Shop! Sign up for our newsletter and get the inside scoop on skincare and self-care tips, product highlights, and our seasonal special treatments.