Apothékary powders offer wellness from the inside out.
You've heard that healing starts from within… well with Apothékary products true wellness starts from the inside. 
What is Apothékary?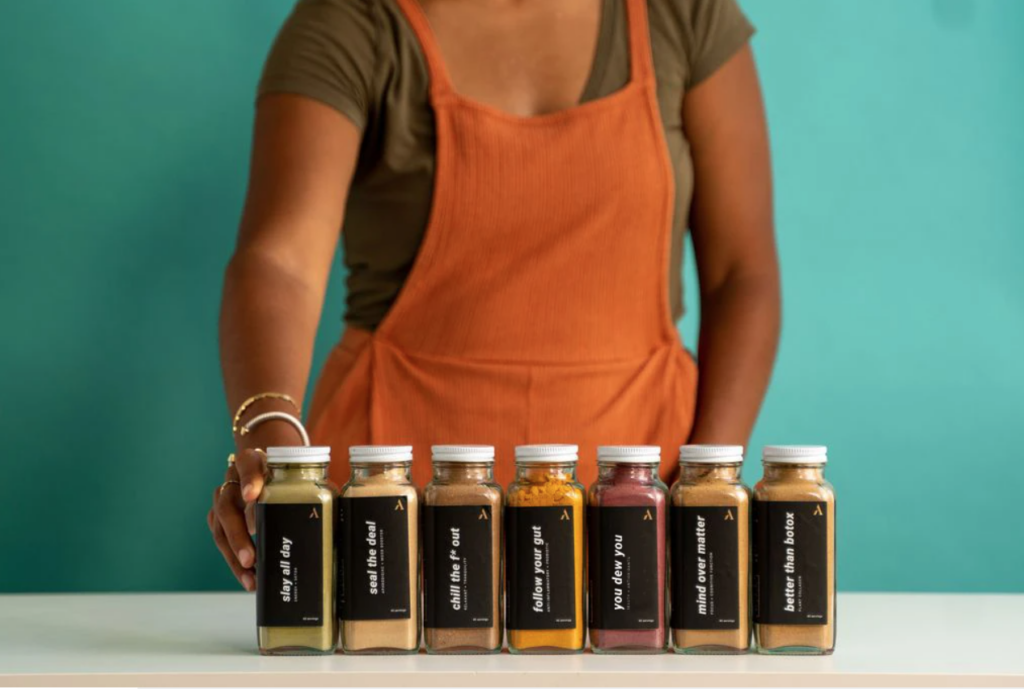 Apothékary is the vitamins you want to take. Powdered supplements and blends that are made to target your desired effect or area of wellness. Simply blend into your favorite hot or cold beverage and feel the healing! From mood lifters to tummy soothers to skin improvers, you'll love trying all these blends and feeling better from head to toe.
With no sugar and amazing ingredients like adaptogens, natural mood boosters, and antioxidants, these are the yummiest nutrient-rich drink on the menu. It's super fun to try different blends mixed into different beverages to create new flavors.

Find your favorite wellness blend:
Better Than Botox: Camu Camu, Sea Buckthorn, and Schisandra Berry: these superfoods are widely known for their exceptional antioxidant, Vitamin C & O mega-7 content, enriching the skin with all the vital nutrients for a youthful dewy looking glow. This is one of the highest-rated products by Apothékary and reviewers say, "It works!" Try it on yogurt with honey and berries.
Mind Over Matter: This triple mushroom blend is your new favorite energy and focus boost! WIth Reishi, Lion's Mane, and Chaga. Lion's Mane naturally boosts energy and increases cognitive function, while Chaga is filled with antioxidants to ward off viruses and reduce inflammation (just what we need right now!). Otherwise known as the mushroom of immortality, Reishi contains anti-inflammatory properties that supports overall immune health.
You Dew You: Sweet and a little tart, this drink would be a fabulous mid-morning skincare ritual in itself. With adaptogenic Hibiscus Chaga blend, it improves skin elasticity and gives you a vibrant glow all year round. Floral and earthy, goes well in sparkling lemon water or a smoothie.
Chill the F* Out: This was the first one we tried because, well, 2020. It was surprisingly delicious and put us right to sleep. It will leave you feeling refreshed, not groggy in the AM, and thoroughly "chilled." Tastes like a peppermint mocha and goes really well stirred into warm oat milk.  Contains two powerhouse adaptogens, Reishi Mushroom and Ashwagandha Root.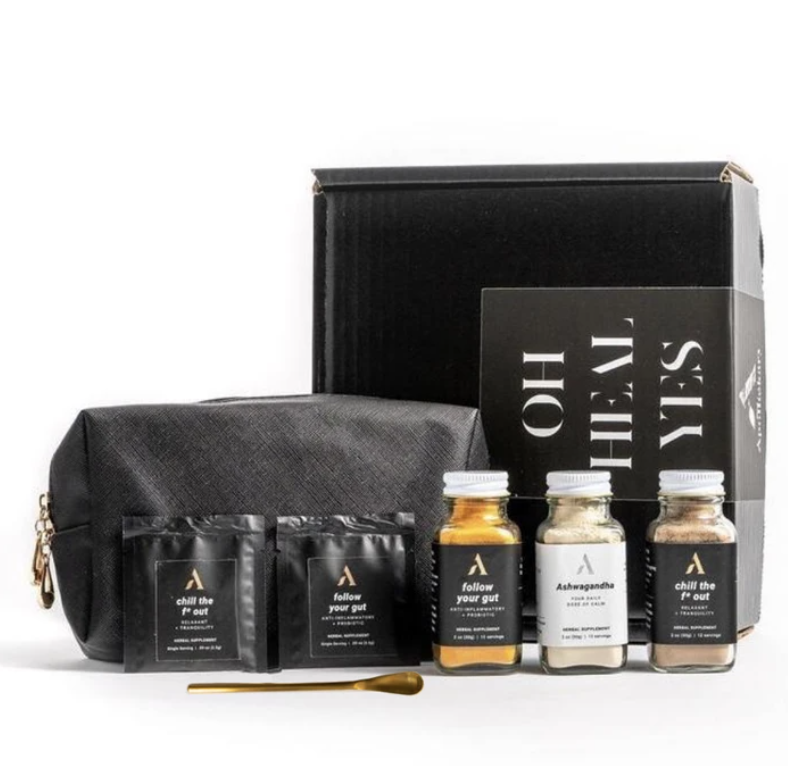 License to Chill Set: Do you really need to chill? Try this set, with Ashwagandha, Chill The F* Out and Follow Your Gut (a Turmeric based blend with stress-reducing Astragalus Root for a distinctly potent herbal boost for your gut and skin). Also includes a Black vegan leather pouch, a super cute gold dosing spoon, and a single serving of Chill The F* Out and Follow Your Gut in an on-the-go pouch. So you can take them with you while you're out running around.
Seal The Deal: This one is said to improve libido! But it does much more than that. You'll love it for its adaptogens like Maca and Ashwagandha, which help energy, mood, and keeping stress at bay. Improves emotional health so that you can feel your best in and out of the bedroom.
Remember, Spa Members get 5% off retail products!
Come see us off of Pence Lane and take a look in our retail shop to pick up some wellness from within today. Learn more about Spa Membership here.
Photos from Apothékary.