Target dark spots this summer with an award-winning cream
While you can certainly try to prevent them, too much sun exposure will have you seeing spots – dark spots, that is, on your face, hands, and décolleté. Come in and get your Spa Member sample for June: the Bright Skin Targeted Treatment by Eminence.
Why do we get dark spots?
Dark spots are our skin's way of adding protection in the form of extra melanin to damaged areas. To minimize the look of uneven skin tone and hyperpigmentation, you can apply a skin brightening treatment, like this one from Eminence.
Licorice root extract, punarnava, and turmeric combine to reduce the look of dark spots. Infused with Swiss Alpine Plant Extracts, a proprietary blend of skin-brightening alpine plants, this intensive treatment is applied directly to trouble areas to reduce the look of dark spots, reveal bright skin, and a more even complexion.
Protect yourself with sunscreen, and wear protective clothing and a large sun hat to reduce your sun exposure.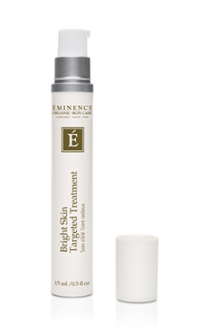 How to use this treatment:
Use once or twice daily as required.

Apply a small amount directly to affected areas and leave on.

Can also be used on tops of hands and décolleté.


Visible results include:

Skin is protected to help prevent sunburn
The appearance of dark spots is faded
Overall complexion is bright and even

Key Ingredients:

Licorice Root Extract: Reduces the look of age spots
Punarnava Root Extract: Evens skin tone, reduces the look of dark spots
Swiss Alpine Plant Extracts: Made up of seven organically grown Swiss alpine plants; brightens skin to reduce the look of dark spots
Turmeric Root: Brightens skin

We Believe in:        We say NO to:
 Organic                 Parabens
 Natural                  Phthalates
 Biodynamic®         Sodium Lauryl Sulfate
 Sustainable            Propylene Glycol
Cruelty-Free          Animal Testing

Eminence Organics is constantly innovating our product formulations to deliver the best results.
The Eminence natural, organic, and Biodynamic® ingredients may have slight variations from harvest to harvest.

• Vegan, Nut Free and Gluten Free •

Retail Size: 0.5 oz / 15 ml

Honorable Mention of ASCP Readers' Choice Awards: Favorite Hyperpigmentation Line, ASCP Skin Deep, 2019

Winner of Best Hyperpigmentation Collection, ASCP Skin Deep Readers' Choice Awards, 2018
Members at Anjou Spa get monthly gifts and a 5% discount on products!
Come pick up your complimentary June Spa Member gift from our Welcome Desk staff on the FACE STUDIO side. Not yet a member? Members get monthly samples, extra discounts, and shopping nights, and treatments each month for a low monthly fee. With your Anjou Spa Membership, you also get a 5% discount on all products! Read more about our Anjou Spa Membership.
Call us at (541) 241-8454 to schedule your next treatment or request an appointment online. Find home goods, organic self-care products, and other gems we carefully select in our Shop! Sign up for our newsletter and get the inside scoop on skincare and self-care tips, product highlights, and our seasonal special treatments.