Protect, hydrate and brighten with this sunscreen moisturizer
In Central Oregon, anytime is a great time to incorporate a sunscreen moisturizer into your daily regimen. It's especially important when the sun starts appearing daily and we get outside more to play! Stop in and pick up your  Spa Member gift for May: Bright Skin Moisturizer SPF 40 from Eminence.  
Bright Skin is a brightening daily moisturizer complete with Natural Hydroquinone Alternative and SPF 40 all mineral protection to target the appearance of dark spots and help prevent sunburn. It works well for normal to combination skin types. 
Hydroquinone is a skin-bleaching agent that is used to lighten uneven areas (think freckles, melasma, age spots or acne scars). Try this natural alternative that uses African Potato and Tara tree to get the results without the potential side effects of dry skin and redness. Added with licorice root and bearberry extract, dark spots are banished leaving behind your radiant skin!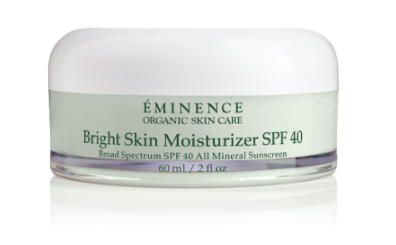 How to use this treatment:
Apply liberally 15 minutes before sun exposure
Reapply at least every 2 hours
Use a water-resistant sunscreen if swimming or sweating
Children under 6 months of age: Ask a doctor

SUN PROTECTION MEASURES:

Spending time in the sun increases your risk of skin cancer and early skin aging. To decrease this risk, regularly use a sunscreen with a broad spectrum SPF value of 15 or higher and other sun protection measures including:

Limit time in the sun, especially from 10 a.m. – 2 p.m.; and
Wear long-sleeved shirts, pants, hats, and sunglasses

FOR THE BEST APPLICATION EXPERIENCE:

1. Apply a serum, oil or concentrate to prep and hydrate skin
2. Dispense a pea-sized amount of SPF moisturizer to start
3. Warm up in hands
4. Apply to forehead, nose & cheeks first
5. Work into rest of face, neck & chest
6. Let skin absorb the SPF moisturizer before adding more
7. Add gradually for more coverage


Visible results include:

Skin is protected to help prevent sunburn
The appearance of dark spots is faded
Overall complexion is bright and even

Key Ingredients:

Zinc Oxide: a natural mineral that provides a physical barrier, helping protect skin from sun damage
Natural Hydroquinone Alternative (African Potato, Tara Tree): aids in fading the appearance of dark spots for a smooth, even complexion 
Swiss Alpine Plant Extracts: mixture of 7 plant extracts; naturally brightens the look of skin and fades the appearance of dark spots 
Licorice Root: addresses the appearance of uneven skin tone 
Bearberry Extract: addresses the appearance of dark spots
Stone Crop: evens out the appearance of uneven skin tone; moisturizes and heals dry skin

We Believe in:        We say NO to:
 Organic                 Parabens
 Natural                  Phthalates
 Biodynamic®         Sodium Lauryl Sulfate
 Sustainable            Propylene Glycol
Cruelty-Free          Animal Testing

Eminence Organics is constantly innovating our product formulations to deliver the best results.
The Eminence natural, organic, and Biodynamic® ingredients may have slight variations from harvest to harvest.

• Vegan, Nut Free and Gluten Free •
Members at Anjou Spa get monthly gifts and a 5% discount on products!
Come pick up your complimentary May Spa Member gift from our Welcome Desk staff on the FACE STUDIO side. Not yet a member? Members get monthly samples, extra discounts, and shopping nights, and treatments each month for a low monthly fee. With your Anjou Spa Membership, you also get a 5% discount on all products! Read more about our Anjou Spa Membership.
Call us at (541) 241-8454 to schedule your next treatment or request an appointment online. Find home goods, organic self-care products, and other gems we carefully select in our Shop! Sign up for our newsletter and get the inside scoop on skincare and self-care tips, product highlights, and our seasonal special treatments.