Warm-up with this Hungarian Hot Mud Masque 
Winter weather got you feeling the chill? Give your face some warmth with this Hungarian Herbal Mud Treatment from Eminence, this month's Spa Member gift! 
Heat is activated by cinnamon which in addition to warming you up, fights off bacteria. Paired with ivy for vitamin C, sage to tone and heal, and paprika, your skin will be stimulated and refreshed.
⁠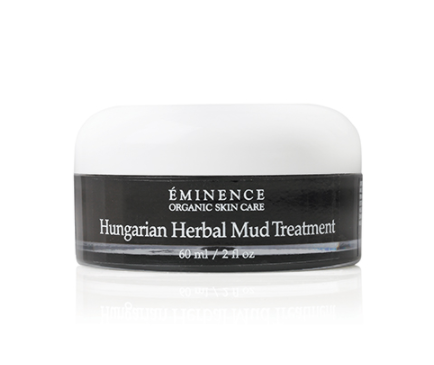 How to use this treatment:
Warm the mud up to body temperature. Spread a thin layer on the surface of the skin and leave on for 5-10 minutes. (For easier application, dilute the mud with water). Following with Calm Skin Arnica Booster-Serum is recommended.

Due to increased circulation, a tingling sensation may occur for up to 20 minutes and redness for up to 45 minutes after which the skin will feel refreshed, detoxified and soothed.


Visible results include:

Complexion appears healthier and smoother
Epidermis appears more youthful and vibrant
Skin surface appears calmer and less irritated
Sebum production is reduced

Key Ingredients:

Hungarian Herbal Mud: contains high amounts of mineral trace elements and sulfur to nourish problem skin
Sage: tones skin
Willow: soothes skin, revitalizes the appearance of skin
Ivy: high in vitamin C, antioxidant
Cinnamon: revitalizes the appearance of skin
Paprika: invigorates and rejuvenates the look of skin
BioComplex: a booster of antioxidants, Coenzyme Q10, and Alpha Lipoic Acid to reduce the appearance of wrinkles and improve the appearance of skin

We Believe in:        We say NO to:
 Organic                 Parabens
 Natural                  Phthalates
 Biodynamic®         Sodium Lauryl Sulfate
 Sustainable            Propylene Glycol
Cruelty-Free          Animal Testing

Eminence Organics is constantly innovating our product formulations to deliver the best results.
The Eminence natural, organic, and Biodynamic® ingredients may have slight variations from harvest to harvest.

 
Members at Anjou Spa get monthly gifts and a 5% discount on products!
Come pick up your complimentary December Spa Member gift from our Bend Welcome Desk staff. Not yet a member? Members get monthly samples, extra discounts, and shopping nights, and treatments each month for a low monthly fee. With your Anjou Spa Membership, you also get a 5% discount on all products! Read more about our Anjou Spa Membership.
Call us at (541) 241-8454 to schedule your next treatment or request an appointment online. Find home goods, organic self-care products, and other gems we carefully select in our Shop! Sign up for our newsletter and get the inside scoop on skincare and self-care tips, product highlights, and our seasonal special treatments.