Try Turmeric Energizing Treatment – Your New Fast Facial For Fall
Turmeric isn't just showing up in your latte anymore – now you can give yourself a fall facial and revitalize your skin with this exfoliant and mask in one bottle. Using this amazing powder-to-mousse formula, your skin will instantly feel warmer and more invigorated! Impurities and toxins are drawn out from pores, thanks to the zeolite and kaolin clay, while the turmeric works to brighten and reduce redness in the skin due to dryness.
To benefit from the exfoliating properties, gently buff the treatment into your skin when removing to reveal your new softer, luminous, and energized skin. This Turmeric Energizing Treatment is perfect to incorporate into your fall routine or anytime during a change of seasons.
⁠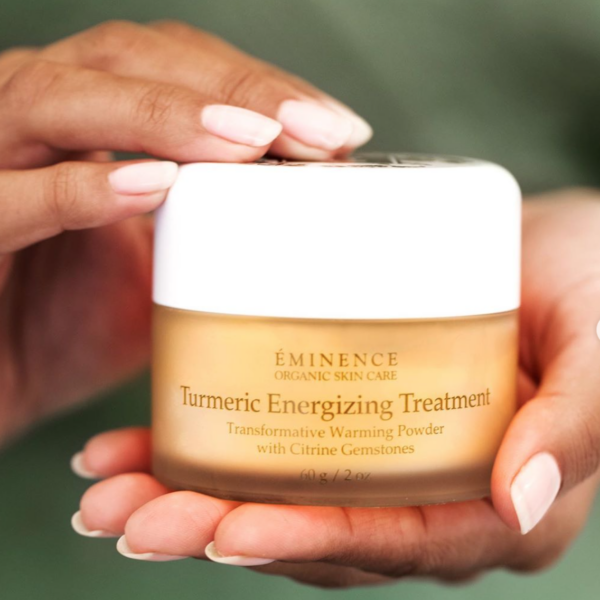 How to use this treatment:
Dispense 1 small scoop of powder (about 1 teaspoon) into the outer cap. Gradually stir in a few drops of water until the whipped-mousse texture is achieved; the recommended ratio is 4 parts powder to 3 parts water. Apply a thin layer to the entire face, extend to the neck and décolletage as desired. Let dry for 10 – 30 minutes. Rinse with tepid water, massaging gently to exfoliate. A hot tingling sensation lasting a few minutes is a natural response to this product. For milder stimulation, dilute with more water. Note that the product is water activated; the tingling sensation dissipates over time and will resume during rinse-off. Use of steam, hot towels, or warmer water will intensify the heat.

Visible results include:

Skin is purified and left feeling soft and smooth
Complexion looks enlivened and brighter
Helps the mind and body feel greater positive energy

Key Ingredients:

Turmeric: potent antioxidant that visibly brightens the appearance of skin and reduces the look of puffiness
Citrine Gemstones: stone of light and happiness that helps the mind and body feel recharged, motivated and energized
Paprika: invigorates skin, leaving it soft and glowing
Zeolite: exfoliates deeply; releases energy upon contact with water resulting in the skin feeling warm and invigorated; improves the skin's appearance by smoothing and tightening; evens the look of skin tone
Kaolin Clay: deeply cleans and softens the skin, gently draws out impurities without stripping moisture from the skin

We Believe in:        We say NO to:
 Organic                 Parabens
 Natural                  Phthalates
 Biodynamic®         Sodium Lauryl Sulfate
 Sustainable            Propylene Glycol
Cruelty-Free          Animal Testing

Eminence Organics is constantly innovating our product formulations to deliver the best results.
The Eminence natural, organic, and Biodynamic® ingredients may have slight variations from harvest to harvest.

 
How to apply the Turmeric Energizing Treatment: 
Members at Anjou Spa get monthly gifts and a 5% discount on products!
Come pick up your complimentary October Spa Member gift from our Bend Welcome Desk staff. Not yet a member? Members get monthly samples, extra discounts, and shopping nights, and treatments each month for a low monthly fee. With your Anjou Spa Membership, you also get a 5% discount on all products! Read more about our Anjou Spa Membership.
Call us at (541) 241-8454 to schedule your next treatment or request an appointment online. Find home goods, organic self-care products, and other gems we carefully select in our Shop! Sign up for our newsletter and get the inside scoop on skincare and self-care tips, product highlights, and our seasonal special treatments.