How to Give Yourself A Relaxing Scalp Massage
One of the unforeseen effects of being at home for weeks at a time – there's no way to get your regular cut and style! Because of this, many of us are just letting it grow. If you want to encourage growth, boost your scalp health AND perform a stress-busting ritual at home, try this DIY scalp massage. This soothing massage is also a sweet gesture for a partner or a way to calm down a wound up kiddo after bath time. Try it out and see the results – both hair and mood will be improved.
Here's why it's worth it to take time for a scalp massage:  
It stimulates hair follicles and encourages circulation and hair growth
It reduces dry, itchy scalp, which can be a big problem in dry climates and after spending lots of time indoors with recirculated air. 
Reduces hair thinning
Moisturizes hair and scalp 
Reduces stress, increases energy levels, and encourages concentration and mental clarity (who couldn't use more of that these days?)

How to give yourself (or someone you love) a scalp massage:
Do this routine for 15 min / 1x a week or 2 x / month. 
Use 2 tablespoons pure organic coconut oil (or another body oil that you love. At Anjou Spa, we also love the Eminence Apricot Body Oil for this ritual! 
Optionally, you can add in 2-3 drops of essential oil to further stimulate the hair follicles. We have our own essential oil blend we use at the spa if you get a Hair & Scalp Revitilizer with your service.
We recommend Ylang ylang, rosemary, clary sage, cedarwood, lavender or peppermint which are all wonderful for encouraging hair growth. 
In a small bowl, combine the oil and the essential oil. If you are using coconut oil, melt to a liquid consistency. 
Let your hair down, give it a good brush, and make sure there are no tangles. 
Drizzle the oil onto the scalp. Gently stroke from the front of your hairline to the base of your neck along your scalp. Avoid using your fingernails, we don't want to scratch or damage the scalp at this point! This gently awakens the scalp and brings blood flow to the area.
Starting with each hand open above the ear, draw the fingertips toward each other to the center,  pushing the hair up and in a zig-zag motion, as if you were going to interlace your fingers in your hair. Add in a brief circular massage at the top of your head. Work your way from the top of the head down to the neck. Repeat, changing the direction of the circular massage. 
Flip your head over and concentrate on massaging the lower part of your head and bringing blood flow to the face as well. Flip your head back up and comb the hair out completely with a wide-tooth comb. Lightly apply pressure to your skull, holding hands in place, all along the scalp and down to the base of the neck.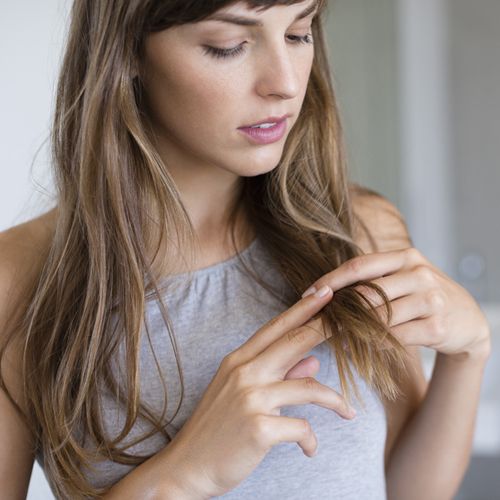 To finish, make sure your hair is completely coated with the oil, showing extra attention to the ends of the hair where damage tends to be the most severe. Comb through once more and put up and out of your face. You can do this at night and leave the oil treatment in while you sleep. Wrap your hair in a thin towel or hair wrap before tucking in for the night. You can also lay a t-shirt or towel over your pillow before laying down.
You could also do this during the day – and why not if you are at home right now – and then shower and wash hair out later in the afternoon or evening. Trade scalp massages with a partner or loved one and everyone in your house will be feeling relaxed and revitalized! 
Need a visual? Check out this video on how to do the complete process.
Anjou Spa hopes you are de-stressing, self-caring and relaxing as much as you can during this uncertain time. We are here to offer words of support and tips, resources and ideas to nourish yourself and your loved ones. 
If you need to order skincare or lifestyle products, we are offering curbside pick up or in-town delivery! Please email us at welcomedesk@anjouspa.com to place your order or ask for assistance. We are also now booking skin care consultations over the phone or via Zoom (you do not even need a Zoom account – we will send you an invite). Click here to book and get your skin care questions answered, or to order product for curbside pick up!
Sign up for our newsletter and get the inside scoop on skincare and self-care tips, product highlights and our seasonal special treatments.