January Member Gift: Rosehip Triple C+E Firming Oil 
As we are moving into the height of winter, our skin craves extra hydration. Rosehip Triple C+E Firming Oil to the rescue! This serum is an effective facial treatment comprised of a blend of results-oriented ingredients that provide intense hydration and protection. Rosehip oil is rich in beta carotene and essential fatty acids which improve moisture, tone and texture.
PRO TIP: Try Rosehip Triple C+E Firming Oil layerd unter your regular moisturizer this winter to protect against cold and dry air. 
The Rosehip Triple C+E Firming oil fights the signs of aging, smooths wrinkles and hydrates deeply. It also contains soothing rosemary leaf, milk thistle which helps to maintain hydration and aging and jojoba oil for rich hydration.
A key ingredient – oil-based vitamin C – changes the game. Most skin care products contain water-based vitamin C that not only deteriorates easily but potentially irritates the skin. This oil-based vitamin C formula not only avoids these drawbacks but is also more easily absorbed by the skin. 
Learn more about this serum – and others – in our serums blog series!
How to use the Rosehip Triple C+E Firming Oil:
Apply a thin layer of oil (2–3 drops) to face and neck with circular motions once or twice daily. Leave on. May be followed with a moisturizer.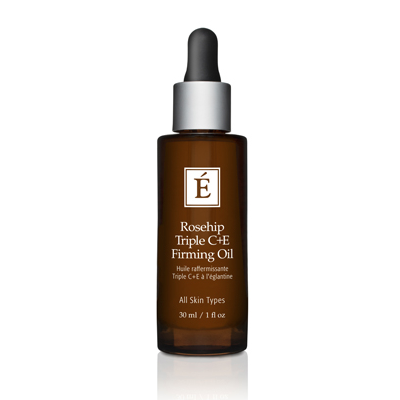 Visible Results include: 
Skin is firmed and plumped
Dry skin is soothed and hydrated
Visible signs of aging are reduced
Protects dry skin from environmental stressors
Key Ingredients:
Rosehip Oil: Rich in Vitamins C, E, and beta-carotene and essential fatty acids. Essential fatty acids improve skin's moisture, tone, texture as well as the look of pigmentation
Jojoba Oil: Helps in issues with sebum and soothes dry skin
Seabuckthorn Oil: A superfruit packed full of powerful antioxidants, vitamins and essential fatty acids. Essential fatty acids promote skin hydration and elasticity, and also help problem skin
Rosemary Leaf Extract: Conditions and smooths the skin
Milk Thistle: Contains silymarin, a polyphenol. Milk thistle helps maintain hydration in skin and prevents the signs of aging
We Believe in:        We say NO to:

 Organic                
 Parabens

 Natural                 
 Phthalates

 Biodynamic®        
 Sodium Lauryl Sulfate

 Sustainable           
 Propylene Glycol

Cruelty-Free        
 Animal Testing
Made with Biodynamic® ingredients from Demeter International Certified Biodynamic® farms.
The Eminence natural, organic and Biodynamic® ingredients may have slight variations from harvest to harvest.
Members at Anjou Spa get monthly gifts!
Come pick up your complimentary January Bend Spa Member gift from our Welcome Desk. Not yet a member? Members get monthly samples, extra discounts and shopping nights, and treatments each month for a low monthly fee. Read more about our Anjou Bend Spa Membership and join us as a member in 2020! 
Call us at (541) 241-8454 to schedule your next treatment or book online. Find home goods, organic self-care products, and other gems we carefully select in our Shop! Sign up for our newsletter and get the inside scoop on skin care and self care tips, product hightlights and our seasonal special treatments.