P
erfect gift bundles for giving everyone on your list! 
We've got these bundles made up in our Shop already, so just come on in and ask! Our Spa Shop is the perfect place to find unique and interesting gifts this season. For more ideas, check out our 2019 Holiday Gift Guide!
 
The "Detox + Soothe" Bundle:
Perfect for: Friend/teacher/ coworker
Price: $ 
With those fabulous Revival Hawaiian Black Lava Soaking Salts we mentioned in our Gift Guide post to detox and invigorate the skin and body, use the body oil to nourish and the Soothe toner to relax and calm the skin. Milk + Honey Bath and Body Oil in Lavendar Chamomile and Neroli will nourish the body and moisturize, while the From Molly with Love Soothe Toner will relax and calm the skin. Ideal for that person in your life you really appreciate – and want to gift some skin care treats. Add in a jade facial roller that is sure to be a favorite skin care tool to take them into 2020.
Bundle Results:
Soothing of tired muscles and joints
Calm and toned skin
Nourished and moisturized skin
Reduces dryness, redness, irritation, and problem pores
Skin appears more supple

The "Just For Him" Bundle: 
Perfect for: Husband / Son / Brother
Price: $$
We have some amazing spa gift ideas FOR THE MEN in your life! This gift bundle has all the hardworking products a hardworking man needs: Natural shampoo and body wash from Hardworking Gentleman provides a two-in-one time saver. The Eminence Stone Crop Gel Cleanser is fantastic for keeping his face and beard looking fresh. Follow up with the Stone Crop Hydrating Mist for the ultimate daily routine.
Bundle Results:
Deep cleansing of skin and beard without feeling dehydrated
The appearance of surface build-up and impurities are removed
The complexion appears clear, smooth and bright
The skin appears vibrant with a lighter complexion
The skin and hair are hydrated and cleansed
The "Refresh Your Skin" Bundle: 
Bundle Results:
Visibly minimizes redness due to dryness
Restores elasticity
Rejuvenates for more radiant skin
Draws out skin pollutants
Clears pores and prevents breakouts
Heals and reduces scarring
Replenishes moisture

The "I Love You More"Bundle: 
Perfect for: Spouse
Price: $$$
Give her a gift of an afternoon off. Revival Immerse French Sel Gris Soaking Salts will calm, unwind and renew her body and spirit. Follow the bath up with a healthy application of the Eminence Apricot Body Oil – which also smells amazing! Nourish skin with the Eminence Marine Flower Peptide Serum. Body and face will love it!
Bundle Results:
Peace & Relaxation!
Relieve muscle aches and pains
Visibly smoother and more radiant looking skin
Skin is moisturized and feels revitalized
Skin tone appears improved
Improvement in skin texture and tone
Softer and more supple skin
Gently reduces the look of fine lines and wrinkles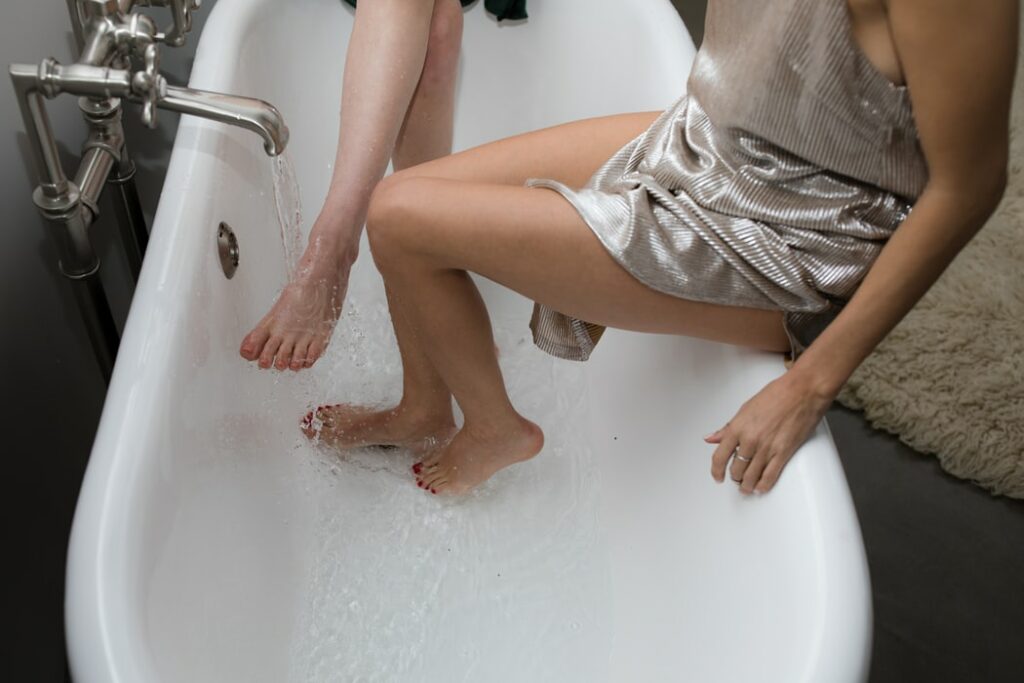 "Bath Time" Bundles: 
Reduced aches and pains
Relaxation and aromatherapy
Myofascial release of muscle tissue
Skin is exfoliated and cleansed
Replenishes moisture
With all these perfectly selected bundles all ready to go (did we mention, we GIFT WRAP TOO?) there's no reason to let holiday shopping stress you out. We've got it all – you just need to come in and pick out the perfect bundle for that person on your list! We'll take one of each, please!
Call us at (541) 241-8454 to schedule your next treatment or book online. Find home goods, organic self-care products, and other gems we carefully select in our Shop! Read Anjou Spa Reviews here, and learn more about our Anjou Bend Spa Membership too.