Moving from a wet climate to a dry climate can throw off your skin care routine. We asked Sarah, our lead Esthetician at Anjou Spa, what to do to get it back on track. 
Sarah moved to Bend with her family last January from the Eugene area. Anyone from Oregon knows that's quite a difference in humidity! Eugene is in the Willamette Valley and gets on average 46 inches of rain a year. Bend, on the other hand, is in the High Desert and is a much more arid climate with only about 11 inches of rain per year. Not just that, but Bend is much cooler, and gets 24 inches of snow a year on average.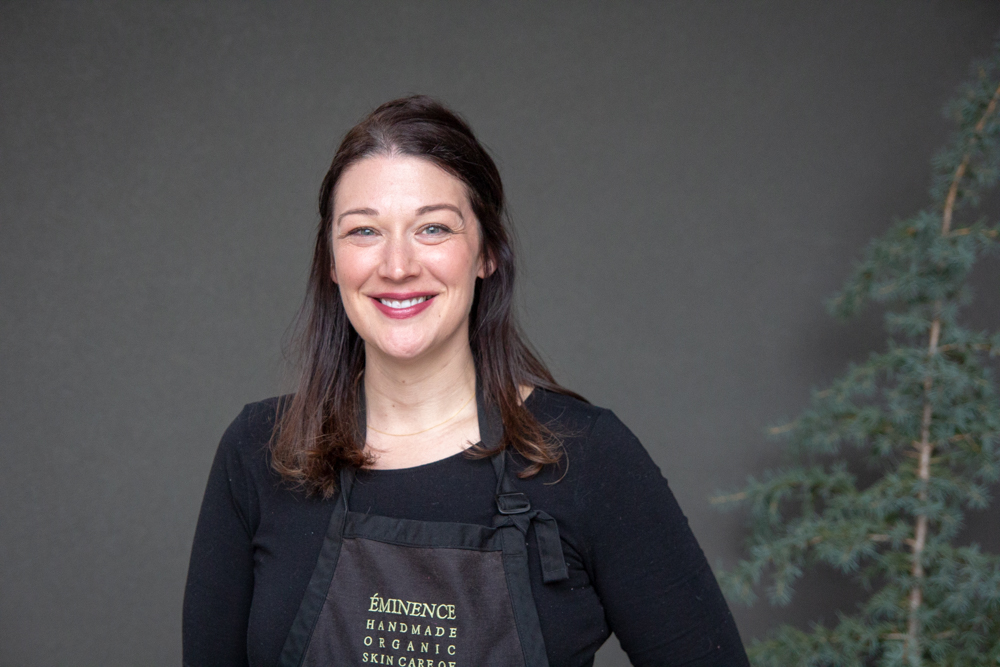 Sarah noticed the drop in humidity content in the air right away – and so did the rest of her family: 
When we moved over here my son and husband got eczema really bad" This is common here, and something to prepare for when making a move from a wet climate to one that is drier and colder. "We didn't need daily oils and moisturizers in Eugene. But here, it's a must.
The feel of her skin changed too: 
My texture got grimier and congested faster here. I have to use Eminence peel pads or something stronger every other day to keep it moving for me personally because I'm a little more on the drier side. Exfoliation is really important.

You can't miss a step as much here. You really look forward to your routine. If I don't cleanse and do my routine at night and day, I notice it. In Eugene, I could get away with not doing it for a few days, but that is not the case here. 
So how did Sarah – our leading skin care lady – switch up about her routine to accommodate their new digs? Answer: Hydration. 
Now I just hydrate whenever I think about it and that seems to have helped me a lot. 
Take a note from Sarah: good skin care starts with a big glass of water. The other thing most people notice about moving to a drier climate is the amount of static electricity in the air. "A humidifier works!" Which is a great tip in general if your skin is having a hard time adjusting to the change in air. Set up a humidifier at night in your bedroom and you will wake feeling less dry. 
What would you recommend for someone moving over here from the Valley or a more humid place? 
Just know that your skin will change, but how it will change is a little unpredictable. "Everyone's skin is so different you might stop breaking out as much or start breaking out more." You might seek out some help from a local expert in skin care like Sarah at Anjou Spa to help your skin make adjustments more smoothly.  
The sun is so much more intense here. I was always really good about wearing sunscreen but here you have to be really vigilant about it. Be prepared with your sunscreen game – body and face, and try to find what you like. Here it's like a basic, you have to put it on every day. 
There's so many chemicals in sunscreens – even if you think you're buying a natural one there's still chemicals in it. You do need to cleanse or exfoliate more to get all of it off. You might be sensitive to the minerals, or just from being in the heat you are more sensitive. A more thorough cleanse is needed for sure – especially on kids too!" Check out the natural sunscreens available in the Anjou Spa shop; there's a sunscreen for everyone in your family you need to protect. 
And don't stop there – use physical barriers to the sun too. "For clothing: you need a good hat!"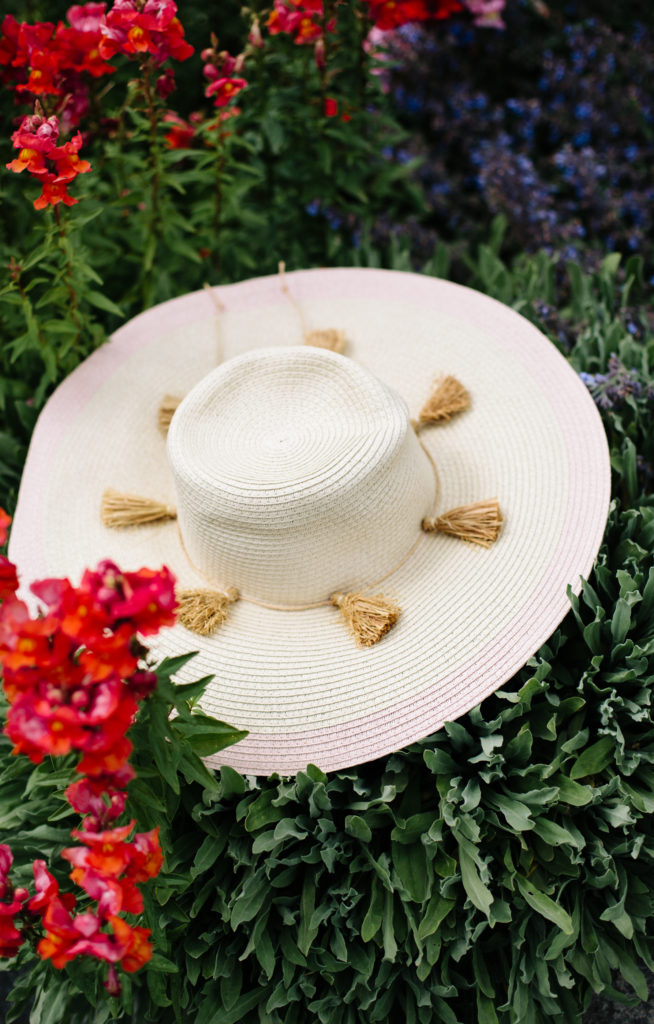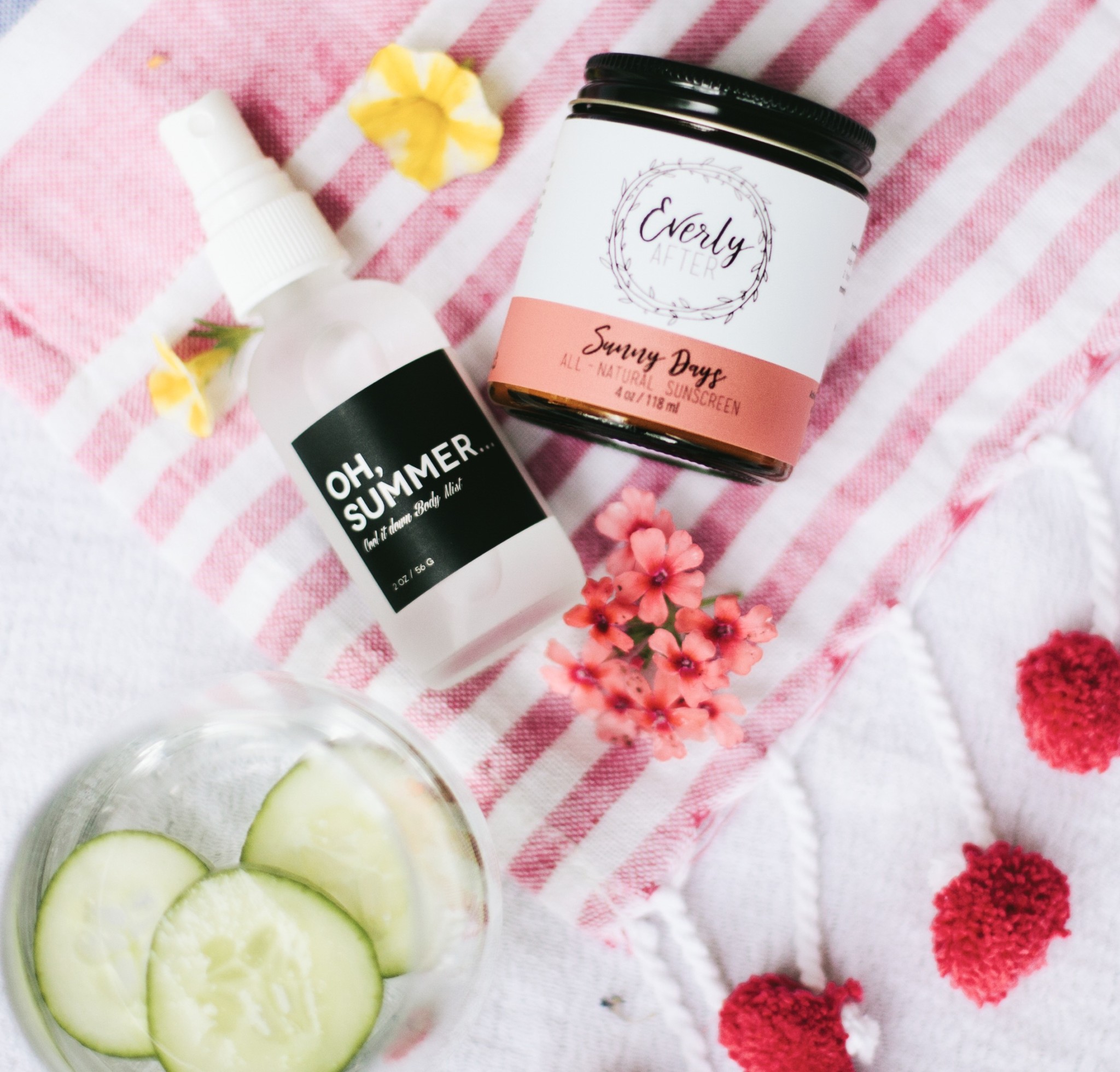 So what is Sarah's Daily Routine for Central Oregon Skin that glows? Well, we're glad you asked. Sarah is a seasoned pro in the skin care industry and she has a morning and evening routine tailored to life in the High Desert: 
Sarah's Skin Care Routines:
Day time routine:
All products mentioned are made by Eminence and available for purchase at Anjou Spa.
Double Cleanse, Chemical Exfoliatant: In the morning I double cleanse – first with Stone Crop Cleansing oil and then with a second cleanser (whatever I'm trying out at the moment). I do this because I feel drier in the morning Cream cleanser in the morning and with extra hydration my makeup goes on better and my lines feel less severe. I really like Blueberry soy cleanser – it has an AHA acid so I'm getting the liquid and physical exfoliant at the start of the day. 
Physical Exfoliant: The Stonecrop Exfoliant in the morning makes my skin feel really fresh.
Tone + Balance: I use the Stonecrop toning mist on a wet cotton round.
Moisturize: At the moment, the Arctic Berry Peptide Radiance Cream. I play around with moisturizers quite a bit.
Serums: I'm using the Citrus and Kale Serum and the Neroli eye serum, which is really cooling.
Night time routine: 
Double Cleanse again: with an oil cleanser and then a gel cleanser 
Physical Exfoliant: I wipe my face all over with one of the peel pads – I'll alternate using the Stone Crop Peel Pads and the Bright Skin or Calm Skin Peel Pads – they are really nice. I like them especially for the congestion you get around the nose the really tiny bits of build up around the laugh lines. If I use one of those, it's either gone or a lot better. 
Moisturize: Jasmine Tangerine Age-Defying Night Cream (again, she likes to try different ones, but this one is in her current rotation).
Serums: Usually a serum that is heavier or more potent. Nighttime is good for that to allow for better absorption. I'm using the Rosehip Triple C+E Firming Oil or the Lavender Age Corrective Night Concentrate which smells really good. 
My routine in Eugene used to be a lot more streamlined, but here, I just need it, and I feel more balanced. 
Sarah's #protips for Central Oregon Skin Care: 
Hydrate

Moisturize

Exfoliate

Don't skip steps in your routine

Pick a good sunscreen you know will be both strong enough here, and apply it daily. 
Call us at (541) 241-8454 to schedule your next treatment or book online. Consider home goods, organic self-care products, and other gems when shopping our Welcome Boutique at our new location of 1835 NW Pence Lane, Suite 120, off NW Shevlin Park Road. Read Anjou Spa Reviews here, and learn more about our Anjou Bend Spa Membership too.