Farewell, dry skin, hello soft silky summer! 
For many of us, Summertime in Bend = dry feet, face and hands. Sun and water zap skin of moisture layers and can create painful itching and cracking in places like hands and heels. In July, use your Spa Member sample to soothe and soften dry skin with a lightweight body oil that absorbs quickly, leaving a matte satin finish. The combination of stone crop and arnica makes this lightly scented oil ideal for massage, hand and foot treatments or even daily moisturizing.
Dispense an appropriate amount of oil for massage and warm in hands prior to application or apply to cleansed skin as a moisturizer. Leave on. Do not use on broken or abraded skin. Alternatively, mix 1–3 drops of oil in your hand with your favorite body lotion or add 1–2 capfuls to your bath.
Visible Results include: 
•Skin is hydrated
•Delivers a soft satin finish
•Light scent soothes tired feet and hands
•Stretchmarksarereduced
Eminence is constantly innovating our product formulations to deliver the best results.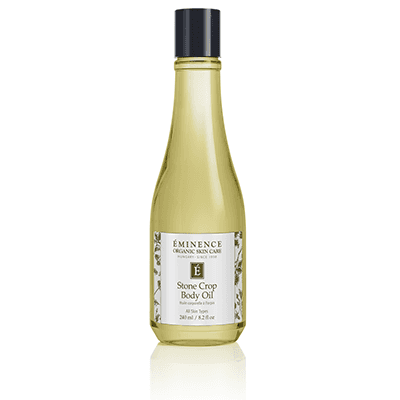 Key Ingredients
Stone Crop: moisturizes and brightens the appearance of skin
Arnica: reduces the appearance of stretch marks
Rosehip Oil: hydrating; antioxidant-rich; source of EFAs, Vitamins C, E and beta-carotene; improves moisture, tone and texture and minimizes the look of dark spots
Avocado Oil: rich in antioxidants, proteins, amino acids and Vitamins A, D and E; moisturizes skin
Indian Gooseberry: antioxidant; firms, tones and softens skin; reduces the look of dark spots; assists in moisture retention and protects skin's moisture barrier
We Believe in:        We say NO to:

 Organic                
 Parabens            

 Natural                 
 Phthalates

 Biodynamic®        
 Sodium Lauryl Sulfate

 Sustainable           
 Propylene Glycol

Cruelty-Free        
 Animal Testing
Made with Biodynamic® ingredients from Demeter International Certified Biodynamic® farms. 
The Eminence natural, organic and Biodynamic® ingredients may have slight variations from harvest to harvest.
Pro Tip: dry brush first
For best results, try giving your body a dry brushing session to slough off dead skin cells and revitalize your systems. Then smooth on the Stone Crop Body Oil for a smooth finish.
Come pick up your complimentary July Bend Spa Member gift from our Welcome Desk. Enjoy!
Dial (541) 241-8454 to book your next treatment or book online. Consider other gems, home goods, and organic self-care products when shopping our Welcome Boutique on your way in or out at our new location of 1835 NW Pence Lane, Suite 120, off NW Shevlin Park Road on Bend's westside neighborhood, at the bottom of College Way. Read Anjou Spa Reviews here, and learn more about our Anjou Bend Spa Membership too.