Step up your skincare with serums
If you're not yet using a serum, consider adding one to your daily skincare regimen. Serums are having a moment in skincare world lately – and with good reason! These powerhouse elixirs contain powerful plant antioxidants and hydrators that deeply penetrate your skin to deliver lasting results. We've been loving serums so much that our May member sample from Eminence is the Neroli Age Corrective Eye Serum
This serum will nourish and hydrate the look of the fine, delicate skin around your eyes. Made with neroli oil, coconut water, and green apple stem cell technology, it is formulated to fight the visible signs of aging, including the appearance of crow's feet and fine lines.
Apply a thin layer to your cleansed eye area with light blending movements until absorbed. Leave on. Follow with an eye cream if necessary. You can also apply using a jade roller for maximum absorption to help reduce inflammation in the eye area. 
Visible Results include: 
• Epidermis appears firmer and tighter
• The appearance of fine lines are reduced
• Eye area moisture levels are balanced
• Complexion appears smooth and rejuvenated
Eminence is constantly innovating our product formulations to deliver the best results.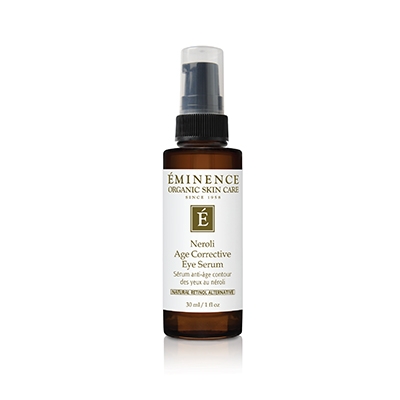 Key Ingredients
Neroli Oil: regenerating, refreshing and hydrating; fragrant skin softener
Coconut Milk: moisturizes, nourishes and softens the skin
Natural Retinol Alternative Complex: contains chicory root oligosaccharides and tara tree; smooths the appearance of wrinkles
PhytoCellTec™ Swiss Green Apple Stem Cells: rejuvenating plant stem cell concentrate; promotes the look of skin's elasticity and delays the appearance of visible signs of aging
Carrot Extract: antioxidant; nutrient; source of vitamin A; nourishes and regenerates the skin with carotene oils

We Believe in:        We say NO to:

 Organic                
 Parabens            

 Natural                 
 Phthalates

 Biodynamic®        
 Sodium Lauryl Sulfate

 Sustainable           
 Propylene Glycol

Cruelty-Free        
 Animal Testing
Made with Biodynamic® ingredients from Demeter International Certified Biodynamic® farms. 
The Eminence natural, organic and Biodynamic® ingredients may have slight variations from harvest to harvest.
Try This Award Winning Eye Serum
The Eminence Neroli Age Corrective Eye Serum is a best seller and has won several awards including:
Winner of Best Eye Serum, Spa & Wellness Mexicaribe Product Awards, 2018
Winner of Best Anti-Aging Collection, ASCP Skin Deep Readers' Choice Awards, 2018 ​​
Winner of Best Eye Serum, Product Awards, Spa & Wellness Mexicaribe, 2017
Winner of Best Skin Care for Mom, Eco Excellence Awards, Natural Child World, 2015
Winner of Premium Organic Skin Care Product, Sister's Beauty Pro Awards, Hong Kong, 2013
Come pick up your complimentary May Bend Spa Member gift from our Welcome Desk. Enjoy!
Dial (541) 241-8454 to book your next treatment or book online. Consider other gems, home goods, and organic self-care products when shopping our Welcome Boutique on your way in or out at our new location of 1835 NW Pence Lane, Suite 120, off NW Shevlin Park Road on Bend's westside neighborhood, at the bottom of College Way. Read Anjou Spa Reviews here, and learn more about our Anjou Bend Spa Membership too.