The most active renewal happens while we rest! 
This cream repairs the appearance of aging skin and returns firmness during a very important time – while sleeping. By harnessing the active nutrients of blueberry and soy milk, you can wake up looking great. 
Apply a layer of moisturizer over the entire face and neck area. Leave on. For a lighter application, emulsify a small amount of moisturizer in your hand with a few drops of water. For extra hydration, apply a thicker layer on dry areas.
Visible Results include: 
• The visible signs of aging are reduced
• Revitalizes the texture of the skin's appearance
• Stimulates repair of the skin

Key Ingredients
Blueberry: deep cleans pores, tightens and tones skin
Non-GMO Soy: reduces the appearance of wrinkles; rich in isoflavones and vitamins
Shea Butter: moisturizes to repair the look of skin
Raspberry Juice: high in vitamins
Grape Seed Oil: delivers hydration
Calendula Oil: tones, tightens and supports the skin's appearance through moisturization
BioComplex: a booster of antioxidants, Coenzyme Q10, and Alpha Lipoic Acid to reduce the appearance of wrinkles and improve the appearance of skin
We Believe in:        We say NO to:

 Organic                
 Parabens            

 Natural                 
 Phthalates

 Biodynamic®        
 Sodium Lauryl Sulfate

 Sustainable           
 Propylene Glycol

 Cruelty Free          
 Animal Testing
The Eminence natural, organic and Biodynamic® ingredients may have slight variations from harvest to harvest.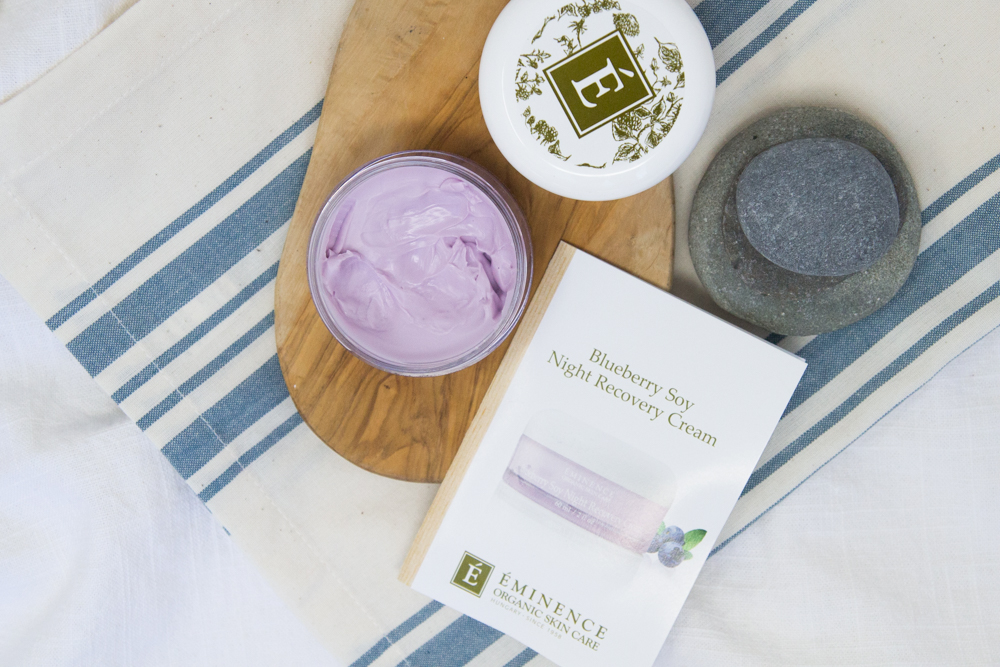 Blueberry Soy Night Recovery Cream
Try this award-winning cream and wake up with skin renewed.
Winner of Best Face Product, LNE's Best, Les Nouvelles Esthétiques & Spa, 2008
Winner of Professional Anti-Aging Product Award, B&H Beauty Pro Awards, Hong Kong, 2007
Come pick up your complimentary February Bend Spa Member gift from our Welcome Desk. Enjoy!
Dial (541) 241-8454 to book your next treatment or book online. Consider other gems, home goods, and organic self-care products when shopping our Welcome Boutique on your way in or out at our new location of 1835 NW Pence Lane, Suite 120, off NW Shevlin Park Road on Bend's westside neighborhood, at the bottom of College Way. Read Anjou Spa Reviews here, and learn more about our Anjou Bend Spa Membership too.