Bend Oregon Labor Day Sale! The summer sun is setting – but not before one more sale!
You did all that back-to-school shopping; now it's time for some beauty shopping. Get out your #2 pencil and make a list of all the luxury goods you'll pick up at the Anjou Spa Welcome Boutique! We make it a part of our service to you to carefully select amazing products – and now we need to make room for more!
You get to benefit from amazing prices on some of your favorite products like Yarok hair care products, Liquid body flasks (think ahead for the holiday season?) and Japanese luxury slippers by Morihata.  Check out our sale items below and visit the Welcome Boutique to shop the sale until Sunday, September 9th.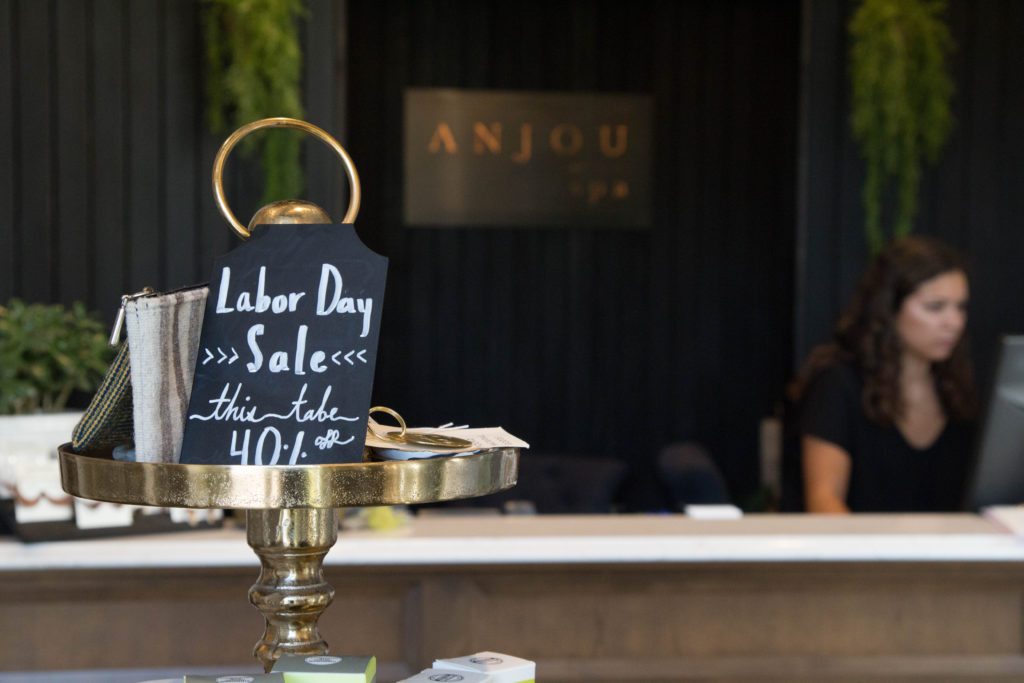 40% off 
Liquid body flasks
Found Natural Goods brass tags
Beardband
Lily Lolo
Empower
Lava Love
Binchotan
Lip balms
Yarok
Dead Sea salts
Towels
Juice Beauty
Dana Herbert earrings
Mexican pouches
Illume hand lotions
Collectiv soaps, lotions and sprays
Ring bowls
Amulette Studios
Dani pear items
Dani diffusers
Angelina cranberry & blood orange cream
Angelina sore muscle rub
Pedi file
30% off
Eminence Red Carpet Ready sets
Eminence Age Corrective Day & Night Body Duo sets
Clarisonic
20% off
Havianas Flip Flops
Dana Herbert eye pillows
Get your favorites before the summer sun sets on this sale!
Sale ends September 9th.
Call us at (541) 241-8454 to schedule your next treatment or book online. Consider home goods, organic self-care products, and other gems when shopping our Welcome Boutique at our new location of 1835 NW Pence Lane, Suite 120, off NW Shevlin Park Road. Read Anjou Spa Reviews here, and learn more about our Anjou Bend Spa Membership too.