Uniquely formulated for the delicate eye area, this ultra-rich eye cream–Marine Flower Peptide Eye Cream–uses naturally derived plant peptides and innovative algae extracts
 to reduce the visible signs of aging. Suitable for use day and night, this versatile eye cream provides long-lasting hydration and visibly improves the appearance of wrinkles, puffiness, and dark circles.
Apply to the entire eye area twice daily, patting gently with fingertips until fully absorbed. Leave on.
Key Ingredients:
Smart Collagen+ Complex: minerals, amino acids and botanicals reveal significantly smoother skin with the appearance of fewer fines lines and wrinkles
Botanical Peptides (from Rice Protein): naturally derived for reducing the look of fine lines and wrinkles
Red Algae Extract:  nutrient rich and contains vitamins, minerals, and amino-acids for the visible signs of aging.
Botanical Hyaluronic Acid (from Beetroot): smooths, plumps and protects skin against trans-epidermal water loss to help maintain long-lasting hydration and minimize the appearance of fine lines and wrinkles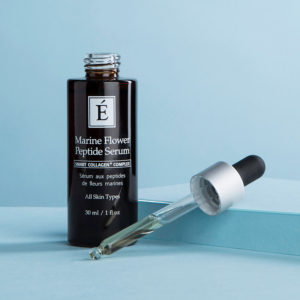 Visible Results
Long-lasting ultra-hydration around the delicate eye area
The appearance of dark circles and puffiness are minimized
Eye area is radiant and revitalized.
Eminence is constantly innovating our product formulations to deliver the best results.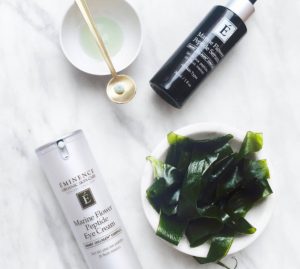 We Believe in:        We say NO to:

 Organic                
 Parabens

 Natural                 
 Phthalates

 Biodynamic®        
 Sodium Lauryl Sulfate

 Sustainable           
 Propylene Glycol

 Cruelty-Free          
 Animal Testing
Marine Flower Peptide Eye Cream
Once August begins, you'll be able to grab your complimentary Bend Spa Member gift from our "hands" at the Welcome Desk. Enjoy!
Dial (541) 241-8454 to book your next treatment or book online. Consider other gems, home goods, and organic self-care products when shopping our Welcome Boutique on your way in or out at our new location of 1835 NW Pence Lane, Suite 120, off NW Shevlin Park Road on Bend's westside neighborhood, at the bottom of College Way. Read Anjou Spa Reviews here, and learn more about our Anjou Bend Spa Membership too.