Do *you* know about service "Add-on's"? One can take a 60-min Anjou Custom Body massage––any massage on the menu, actually––and further tailor it to your needs? Every treatment room has a menu of Add-on services that range from 10 mins – 30 mins and can make your time at the spa even more luxurious!
MASSAGE: Add on a Dry Body Brushing (+ 15 minutes) which gently shed dry skin cells while increasing circulation and lymphatic drainage (very revitalizing!); a Hair & Scalp Revitalizing Treatment (+ 15 mins) that'll transform both hair and scalp with a powerful serum blend suited for all hair types; a Jasmine Rice Body Polish (+ 30 mins) to wash away dry climate body ash; or Cupping (+ 20 mins) which increases circulation and can help to relieve muscle tension and pain. No matter what your body is needing, we have it available.
Add-ons can be added to any massage on our menu, and also to all of our Face, and Nail menu options.
FACE: If you have a facial scheduled, you can add on a Neck Lift (+ 15 mins) that cleanses, exfoliates and masques your neck and decolletage area; a Hair and Scalp Revitalizing Treatment (see above), Facial Cupping (+ 15 mins) that drives moisture deep into skin and has a lip or eye focus; or try LED Light Therapy (+15 mins), which offers a non-invasive skin overhaul and is customized to your skin's needs to boost cell activity and promote collagen regeneration.
NAILS: We didn't leave out the hands and feet! Our add-on menu includes details like gel polish, polish removal (from other salons), and a hand polish and peel, a great way to revitalize skin on your hands while getting your nails done!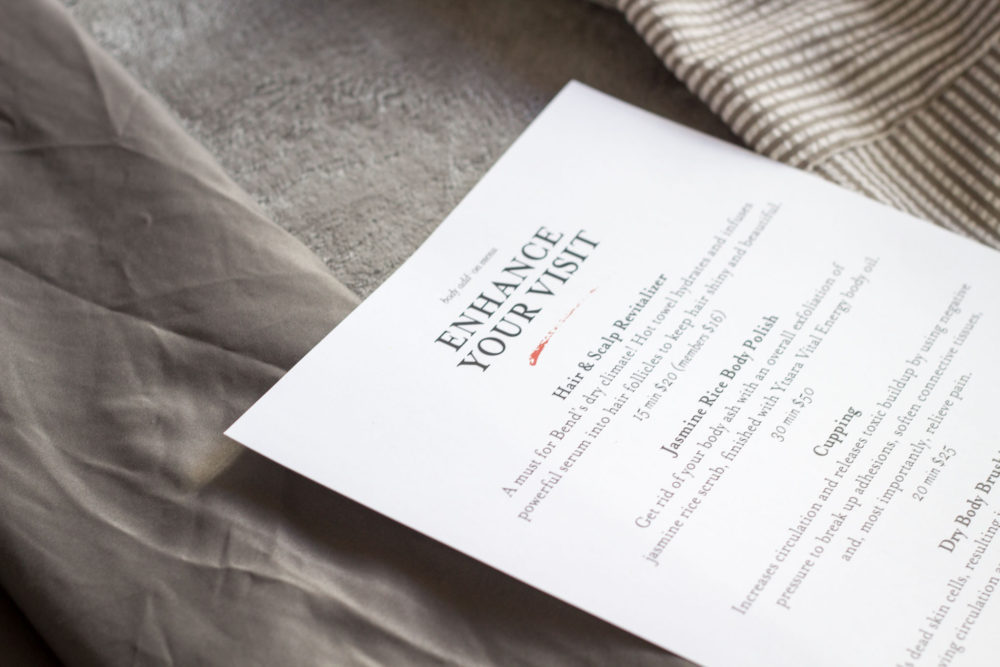 Anjou Spa Menu Enhancements
Add-on menus are in each treatment room and list prices and more details for each mini-treatment. Let your specialist know that you're interested in adding onto a service and they will assist you with scheduling the add-on or adjust their schedule to spend a little extra time with you. Our online booking system, unfortunately, doesn't allow booking of add-ons, so call or let your therapist know prior to the service that you'd like one! 
Enhance your spa visit by adding-on a treatment you haven't tried before and you just may find a new favorite! You can add-on a treatment when booking and peruse our full add-on menus for face, body and/or hands and feet.
Call us at (541) 241-8454 to schedule your next treatment or book online. Consider home goods, organic self-care products, and other gems when shopping our Welcome Boutique at our new location of 1835 NW Pence Lane, Suite 120, off NW Shevlin Park Road. Read Anjou Spa Reviews here, and learn more about our Anjou Bend Spa Membership too.