This May, your monthly gift is the 2nd step in Eminence Organic's New Collection –The Mangosteen Collection – a Mangosteen Daily Resurfacing Concentrate will be your monthly sample.
Named after a purple fruit (Garcinia mangostana), known simply as mangosteen, is a tropical evergreen tree believed to have originated in the Sunda Islands of the Malay archipelago and the Moluccas of Indonesia.Gently resurface and refine pores to refresh the skin's natural appearance. The mangosteen in this leave-on concentrate promotes radiance while the Lactic Acid Complex removes and prevents buildup.
How to Use: Apply one to two pumps to cleansed skin once or twice daily. Leave on. May be followed with a moisturizer.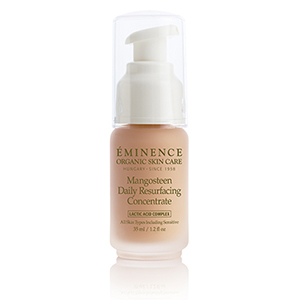 Key Organic Plant Ingredients:
Mangosteen: A super fruit that helps protect skin from drying environmental stressors while promoting natural radiance
Lactic Acid Complex (Lactic Acid, Ribose, Red Clover Flower Extract): A proprietary blend of actives; gently resurfaces skin and refines pores for a more luminous, even, and youthful looking complexion
Lactic Acid: Gentle alpha-hydroxy-acid (AHA) exfoliant; removes surface buildup and improves skin hydration for a brighter, smoother complexion
Ribose (from Corn Seeds): Promotes the look of smoother, revitalized skin
Red Clover Flower Extract: Refines and improves skin tone to minimize pore size
Visible Results
Dull skin is immediately refreshed and revitalized
Evens skin tone and texture for a natural, luminous glow
Pore size is minimized
Skin is more receptive to further treatment
Skin feels smooth and silky
We Believe in:        We say NO to:

 Organic                
 Parabens

 Natural                 
 Phthalates

 Biodynamic®        
 Sodium Lauryl Sulfate

 Sustainable           
 Propylene Glycol

 Cruelty-Free          
 Animal Testing
May Bend Spa Member Gift
Once May begins, you'll be able to grab your complimentary Bend Spa Member gift from our "hands" at the Welcome Desk. Enjoy!
Dial (541) 241-8454 to book your next treatment or book online. Consider other gems, home goods, and organic self-care products when shopping our Welcome Boutique on your way in or out at our new location of 1835 NW Pence Lane, Suite 120, off NW Shevlin Park Road on Bend's westside neighborhood, at the bottom of College Way. Read Anjou Spa Reviews here, and learn more about our Anjou Bend Spa Membership too.