VEGAN LIPSTICK
Vegan lipstick made in Bend! Before or after your next spa treatment, or if you just happen to be in the neighborhood––pop by and test our nine lipstick colors to find yours! Why vegan? Not only does it feel gorgeous to wear it, amazing colors, long-lasting, and is super hydrating for our dry, arid climate, but it has forgone use of animal and animal-derived products for its ingredients. Vegan is sustainable and the future. Try this amazing, Bend's own, product!
ABOUT AXIOLOGY LIPSTICKS
This vegan lipstick company started in Bend, Oregon. We are happy to support local! Below is their mission, and you can't argue those honorable values are another reason to support this fantastic, locally-made product.
TRANSPARENCY
We believe in being conscientious about how our products are crafted, and in making an honest effort to source all of our ingredients from nature. We believe that truth is a vital aspect of integrity and that words such as "ethically sourced" and "all natural ingredients" are fundamental practices, not convenient marketing language. We believe that our honesty earns our customers' trust. We value that trust implicitly.
KINDNESS
We believe in a world where using an everyday luxury like lipstick doesn't include polluting the planet, hurting its beings, or ingesting harmful chemicals through our skin. We believe in creating a product from the purest ingredients available—so we can provide a brilliant end-result and support the courageous farmers who produce our raw materials. We believe that kindness is integrity in action—and we let it guide our business.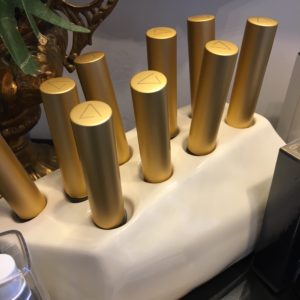 BEAUTY
We believe that our customers deserve to feel beautiful while also feeling ethical about their cosmetics choices. We believe this precious Earth is stunning—and we strive to add to that beauty with conscious actions. We believe that real beauty is just that: real ingredients, real people, real intentions.
Vegan Lipstick, Made in Bend
Consider other gems, home goods, and organic self-care products when shopping our Welcome Boutique on your way in or out at our new location of 1835 NW Pence Lane, Suite 120, off NW Shevlin Park Road on Bend's westside neighborhood, at the bottom of College Way. Read Anjou Spa Reviews here, and learn more about our Anjou Bend Spa Membership too. Spa Members gets 5% discount!